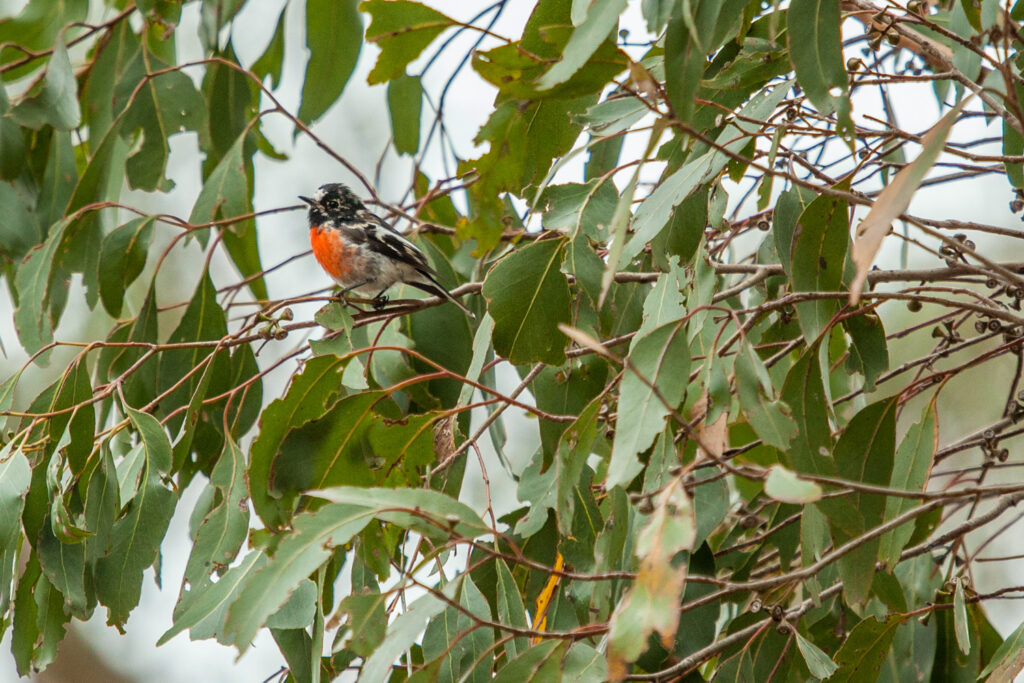 Tasmanian Forests and Woodlands dominated by black gum (Eucalyptus ovata) or Brookers gum (Eucalyptus brookeriana) is a critically endangered ecological community unique to Tasmania. This community is commonly found on modified agricultural or forestry land. It brings many benefits to landscape health but may be lost unless actions are taken to reduce threats.
WHY IS THIS COMMUNITY IMPORTANT?
Healthy forest communities help to maintain water tables, healthy soils and river condition. This type of forest/woodland supports healthy natural and agricultural production landscapes in many ways:
Maintains water quantity and quality by regulating the water table and filtering water entering rivers
Prevents soil erosion and stabilises riverbanks and floodplains
Prevents dryland salinity
Provides critical habitat for mammal, birds, bats, reptiles and amphibians and corridors for the movement of native wildlife
Includes bird and bat populations that regulate agricultural and urban pests
Includes soil disturbing animals that promote soil fertility and moderate fuel loads through enhanced water infiltration into the soil, nutrient cycling and distribution of fungi and seeds (e.g. bettongs, bandicoots, potoroos, dunnarts, wombats and echidnas)
Provides shelter for stock and windbreaks for croplands and pastures.
These kinds of services are often impossible to replace when natural systems become too degraded.
Black or Brookers gum forests and woodlands also provide habitat for over 30 nationally listed threatened species (e.g. swift parrots, eastern quolls, eastern-barred bandicoots and Tasmanian devils).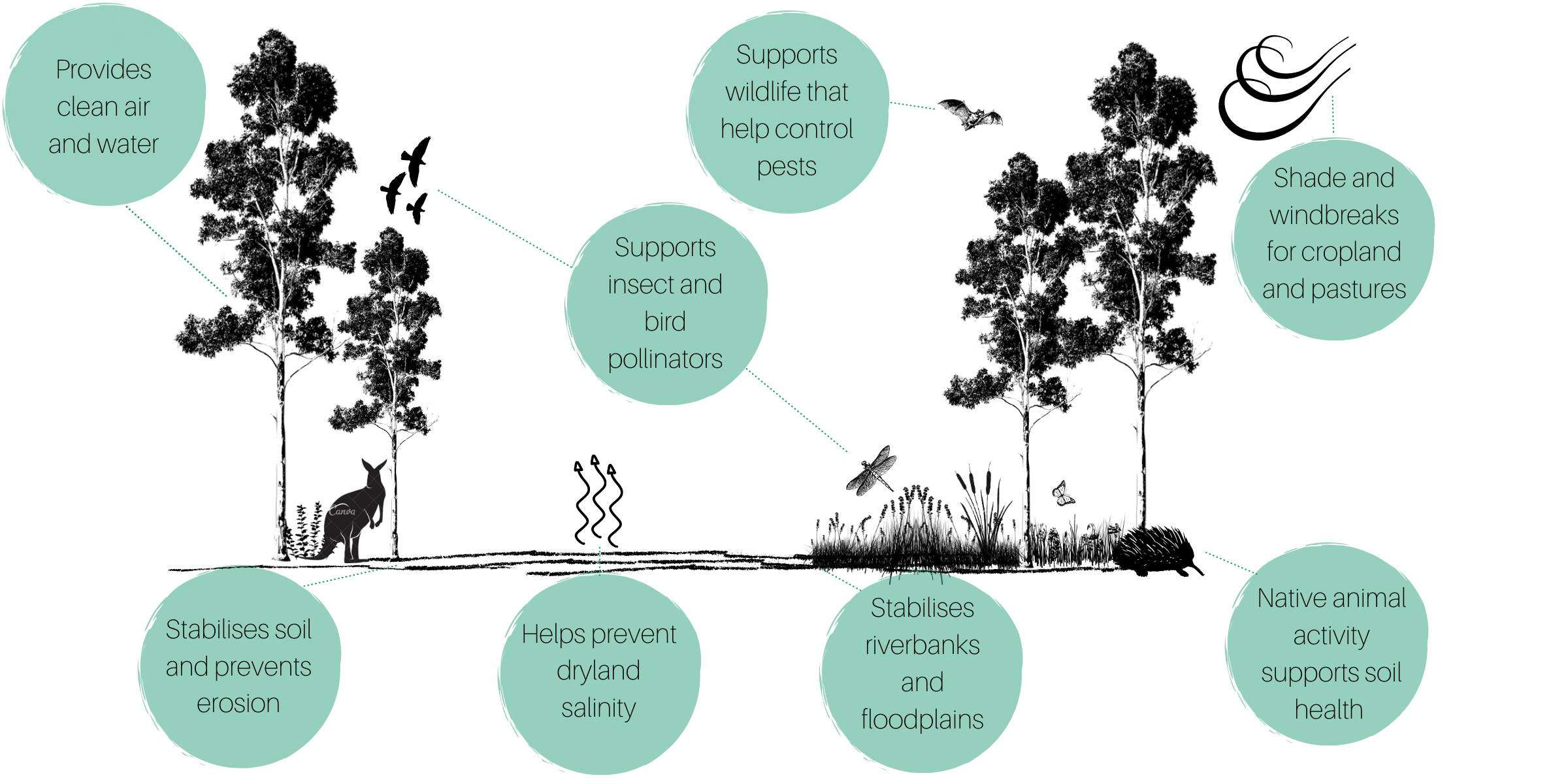 DO I HAVE THIS COMMUNITY ON MY PROPERTY?
Either black gum or Brookers gum will be one of the main tree canopy species, and they are typically over 5m tall. The community is usually found along waterways and in low-lying sites that are wet or seasonally waterlogged. Black gum and Brookers gum are closely related and look very similar, so they can be difficult to tell apart.
The most valuable patches are at least 0.5ha (1.4 acres), contain large trees with hollows, retain native understory plants or are connected to other kinds of native forests and vegetation.

LOOKING AFTER THIS COMMUNITY
Black gum – Brookers gum forest/woodland has declined in extent by at least 90% and is under ongoing threat from:
Native vegetation clearance
Introduced pest animals (such as deer)
Weeds
Changes to water flow and quality
Stock grazing
Changing fire regimes
Hybridisation with non-Tasmanian plantation eucalypts
Disease and dieback
Climate change
AGRICULTURAL PRACTICES THAT IMPROVE FOREST HEALTH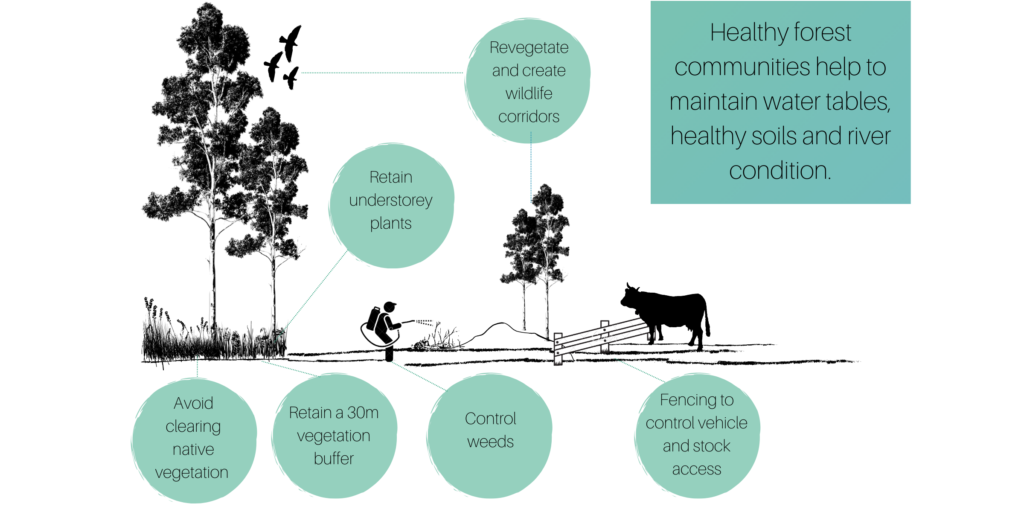 CONTACTS:
If you have this community on your property and are planning an activity that might impact on the condition of the community, you need to seek advice from the Australian Government Department of Agriculture, Water and the Environment to check if the activity needs to be approved. Call 1800 803 772 or ciu@environment.gov.au
Contact the Forest Practices Authority if you are:
Clearing vegetation for forestry
Clearing vegetation to maintain roads, building or dams.
Contact your local council if you are:
Clearing vegetation to build a house.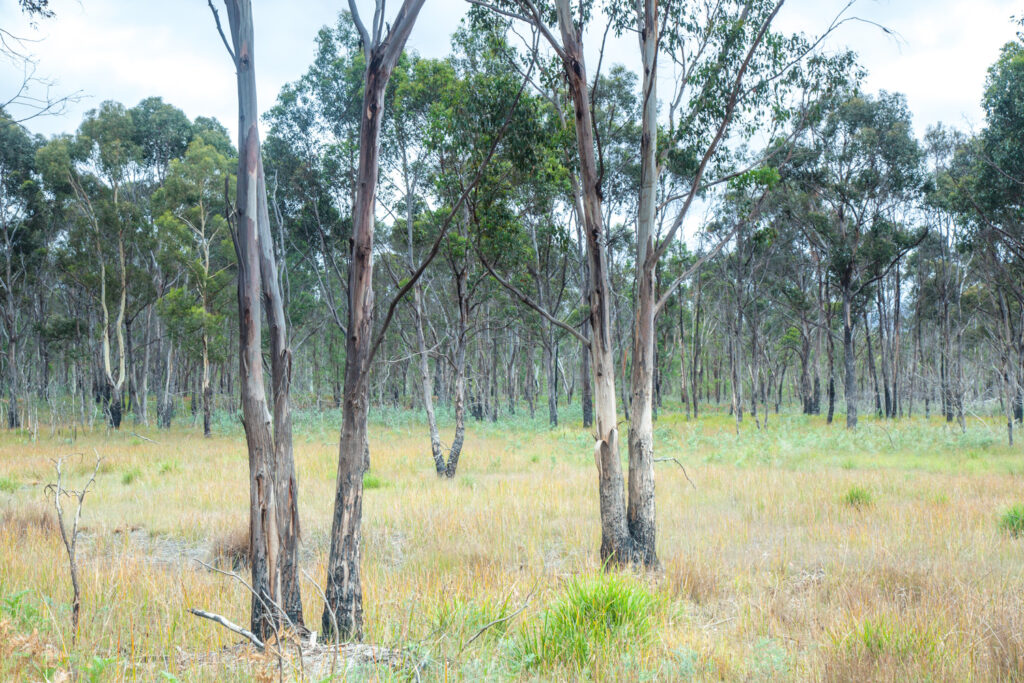 This project is supported by NRM South through funding from the Australian Government's National Landcare Program. We would like to thank DPIPWE and the Forest Practices Authority for their contributions to developing this content.
Image credits: Andy Townsend, Greg Jordan (UTAS)