Local Tasmanian company Endorfun organise a host of outdoor events for sporting enthusiasts that includes trail running, kayaking and cycling. These events take participants through some of the State's most stunning natural areas – including National Parks. Endorfun organisers have set a fantastic example in championing the biosecurity message to attendees at their events, many of whom are often involved with a range of outdoor activities at multiple locations.
Since 2015, NRM South has been lending support in promoting the biosecurity message at Endorfun events – talking to event participants about priority issues and helping out with our bootwash station. In 2016, Endorfun organisers applied for a Biosecurity Infrastructure Community Support grant for a portable washdown station and signage for trail running events that take place in National Parks. While NRM South's original bootwash station was used as a model for developing their own system – their new setup had to be simple and portable, and to have visual impact for event participants.
Previously, event organisers were getting by with hand scrubbing brushes and disinfectant spray bottles – which had less of a visual presence, tended to be overlooked and involved more effort on the part of competitors. Their new tailor-made system now incorporates a disinfectant mat which coats the shoe soles with disinfectant, and rubber matting for drying shoes to dry before they hit the dirt again. These washdown stations are accompanied by large signage panels that runs through the importance of and basic methods for Check, Clean, Disinfect, Dry.
This new easy to use station and the large signs – coupled with constant reminders on social media and at the event – means more competitors (as well as associated family, friends and spectators) are using these stations and connecting with this important biosecurity message.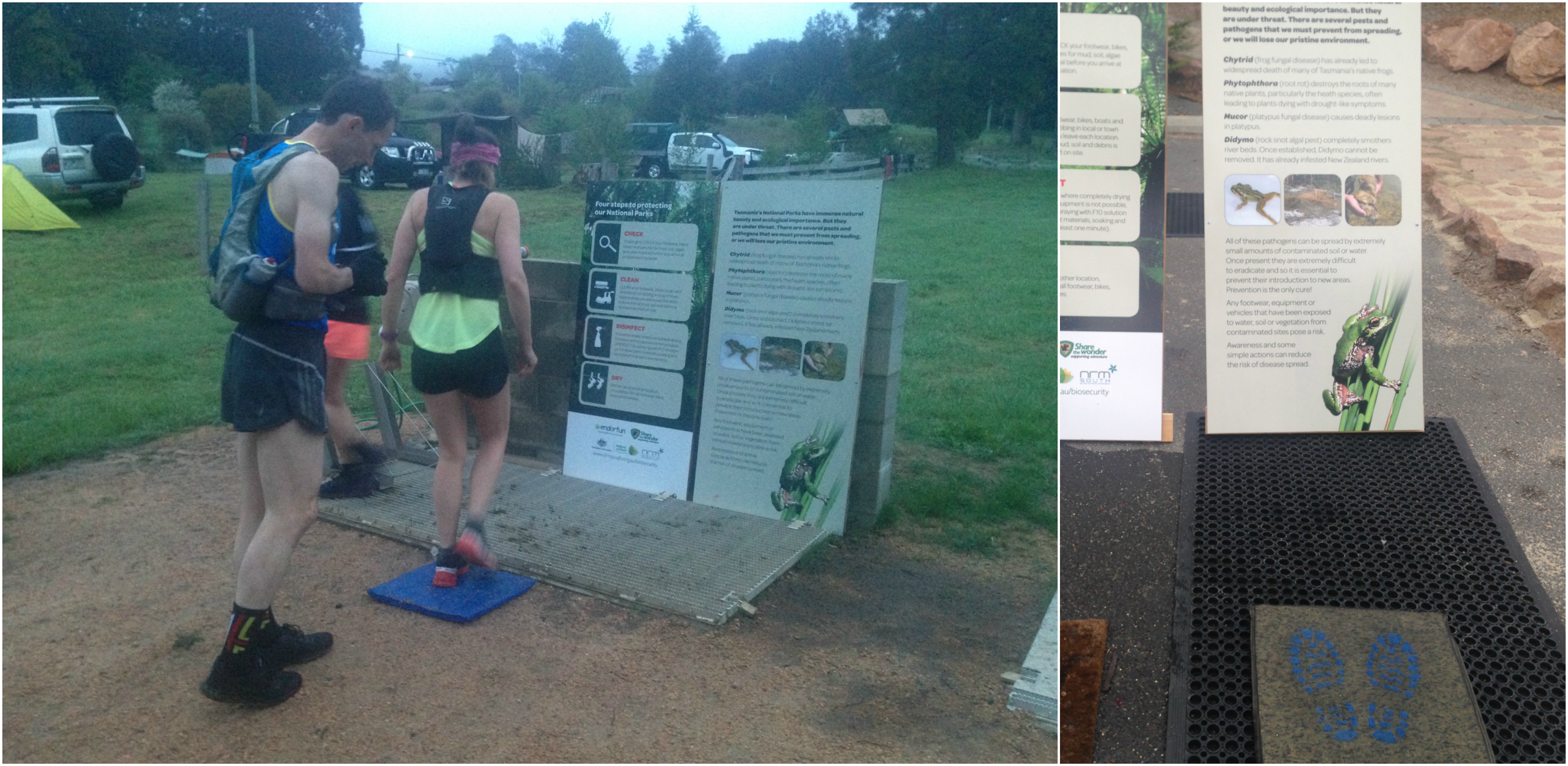 For any other race organisers interested in improving biosecurity practices for their events, Endorfun have made their bootwash station available for use by other event organisers, and NRM North – based in Launceston – has a portable mountain bike cleaning station and banner available that can be lent for events. For more information, contact Kris Clauson at Endorfun or Alison Hugo  (NRM North) and if you'd like to learn more about relevant biosecurity issues, visit www.nrmsouth.org.au/biosecurity/