The Tasmanian Institute of Agriculture (TIA) and NRM South are teaming up to invest in a new pasture project to help improve the productivity and sustainability of pasture systems in Tasmania.
Led by TIA Research Fellow, Dr Rowan Smith, the project aims to identify a perennial legume that persists in the dryland wool grazing environment of the East Coast of Tasmania.
"The East Coast of Tasmania is an important wool producing region that has unique challenges that are unlike those experienced by wool producers in the midlands region," Dr Smith said.
"Our previous work in this region has focussed on perennial grass options and annual legume options, and during inspections of the demonstration sites earlier this year we found there was a lack of perennial legumes within the pasture.
"We saw this gap in the system as an opportunity to undertake further research to make a positive impact for local producers. Legumes are a high quality source of animal feed and can lead to increased overall pasture productivity.
"Finding perennial legumes that are adapted to the region will have multiple benefits.
"Some of the benefits may include an increase in dry matter production and ground cover, reduced risk of erosion and weed incursion and it may also make the grazing systems more resilient to prolonged periods of moisture stress."
The team have worked with local producers to identify a suitable site for the trial, which will be established at the 2017 Tasmanian Vineyard of the Year, Milton Vineyard at Cranbrook.
The trial will evaluate a number of legume options, including the suitability of perennial legumes developed recently by TIA's Herbage Development Program including the deep-rooted Talish clover, stoloniferous red clover, and variegated lucerne.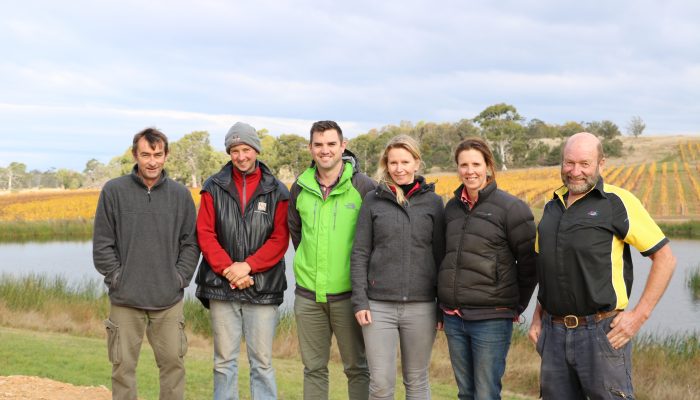 Holly Hansen, Regional Landcare Facilitator (Agriculture) at NRM South says a key part of the project is engaging with local producers to ensure outcomes are relevant.
"We are looking forward to working with TIA on this project to help increase the productivity and sustainability of pasture systems in this region," Ms Hansen said.
"The project is really farmer focused and we have embedded a collaborative approach from the beginning of the project to ensure the research outcomes are applicable and highly relevant."
"We will be working with the east coast producer group to get feedback on the project, and to keep them updated with the results through field days and other communications."
The trial site is currently being prepared and will be sown in August this year.
This project is supported by NRM South, through funding from the Australian Government's National Landcare Programme and the Tasmanian Institute of Agriculture.
TIA is a joint venture between the Tasmanian Government and the University of Tasmania.