In 2017, NRM South offered a scholarship to help leaders and practitioners in the management of our natural resources make a difference to their career and sector via Tasmanian Leaders. The Max Kitchell scholarship was created in recognition of NRM South's longest-serving Chair of the Board.
Tasmanian Leaders is a world-class, intensive year-long action-learning program for up to 30 diverse participants, focused on building leadership capacity and connectivity across all sectors. It has been a success story since its flagship Tasmanian Leaders Program began more than eleven years ago.
The selected recipient of the 2017-18 NRM South scholarship was Hannah Moloney, a professional permaculture designer who works with urban and rural land holders to design landscapes that are beautiful, abundant and resilient.  When not designing, she's running community development projects and teaching permaculture in Tasmania and nationally.
CEO for NRM South, Donald Coventry remarked "NRM South recognises the importance of leadership and are delighted to be providing a scholarship for Hannah Moloney to complete the 2018 program. This scholarship will help us work in partnerships with stakeholders to develop the best ways to protect, conserve and manage the natural resources for future generations"
Tasmanian Leaders Chair Ginna Webster also added that graduates of the program come away feeling motivated, more confident in their abilities and more aware of the broad range of issues relevant to Tasmania's future.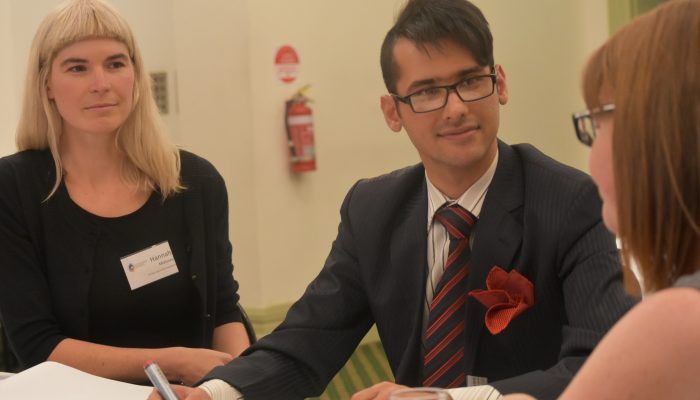 As a small business operator, the Max Kitchell Scholarship has made all the difference in Mrs Moloney's capacity to participate.
"It makes all the difference, without the generous support of NRM South, this program would not have been an option for me to consider. The TLP has a reputation for providing training and opportunities that both challenge and support you to grow as a leader in your field. As a small business owner in a niche industry, this type of professional development and mentoring is pure gold and one I'm currently really hungry for."
Reflecting on her experience so far Mrs Moloney says, "Amongst all the many great workshops, speakers and participants, the greatest value is connecting with people from wildly different backgrounds. This can only be a good thing as we step into a future where more than ever, it's critical we work together to build a safe, prosperous and sustainable world for all. It's also been a real privilege to be able to work alongside NRM South, the work they do on (and off) the ground with their regional facilitators is invaluable to supporting our rural communities to manage land sustainably. We're so lucky to have them."
Hannah was recently interviewed by the ABC's Tasmanian Country Hour about how the Tasmanian Leaders scholarship has been making a difference to her business – have a listen to the May 16 episode to find out more about her work (starting at the 43:25 minute mark). She was also recently filmed for an upcoming segment in Gardening Australia – so keep your eyes on the screens in the coming weeks!
Applications for the 2019 Tasmanian Leaders Program open on July 1. Those interested in applying or supplying scholarships for others should visit the Tasmanian Leaders website at www.tasmanianleaders.org.au.