Ride Clean is focused on people who use our special places like forests and reserves for mountain bike riding.
In Tasmania, mountain biking and mud go hand in hand (if you're doing it properly!) The problem is that mud can carry microscopic organisms – pests, weed seeds and disease-causing pathogens – that have the potential to devastate the bushland areas we love to ride in. Mud and water can easily accumulate on your bike (especially in the hard-to-reach places) and also on your clothes, shoes, helmet, gloves and pack.
One drop of contaminated moisture from you or your bike is enough to put a pristine area at risk.
One of the major threats we face is an introduced fungus called Chytrid, which has wiped out entire frog populations elsewhere in the world. It's already popped up at some places in Tasmania and we're working hard to make sure it doesn't spread any further.
If you stick to one area all the time then there's little risk of spreading unwanted organisms around. But if you're into long rides, or dragging your bike to different places by car, then it's crucial that you don't unwittingly carry a microscopic hitchhiker between rides.
Some people from other states believe that if their bike is clean before they get here then there's no need to be so careful when moving between sites in Tasmania. That's not the case. We already have some introduced pests, weeds and disease-causing pathogens in this state and it is vital that we limit their spread.
Make sure your bike and riding gear are spotless each time you ride in a new place. Check, Clean and Dry your bike between rides, and if you can't be sure your gear will dry before you next use it, Disinfect as well.
For more information, check out the Ride Clean brochure.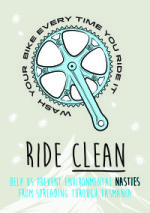 Ride Clean A5 brochure (including detailed information)
You can obtain a biosecurity field hygiene kit from us. It's a great resource to help you and your mates keep your bikes clean and in tip-top shape.
Are you interested in helping us promote Check Clean (Disinfect) Dry in your club or bike shop? With our partners at NRM North we have developed a range of communication products that could suit you.
If you are interested in any of these products, please contact NRM South via [email protected]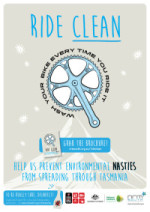 Ride Clean A3 poster                 NRM South BikeWash (Social Media)  


NRM_South_BikewashSignage-1200×420
NRM North Biosecurity Mountain Biker Poster
NRM North Bike Sticker 180 x 55mm