Property Management Planning (PMP) is a process for developing and documenting the visions and goals for a property, with a focus on natural resources. Small farms have different needs to larger properties and this program has been designed specifically for small properties typically ranging in size from 5 – 100 hectares.
Every year, NRM South runs a small farm planning workshop over the course of 4 months in the summer-autumn period. Five workshops are held during weekends at participants' properties. The workshops take a practical, and where possible 'hands -on' approach, and include presentations on a range of topics such as: soil health, grazing management, native vegetation, browsing mammals, weeds and animal husbandry.
This is the fourth year that this program has been running and, over the course of the workshops, participants develop a Property Management Plan with support and guidance from the project team. The next program is planned for late 2016/early 2017.
Workshops 1 and 2: Setting the foundation for future property plans
Registrations for the 2016 Small Farm Planning Workshops proved to be very popular and were quickly booked out, attracting land owners from properties across the Huon and Channel region as well as the Derwent Valley.
The first workshop was held in late February at the Grove Research Centre. At this preliminary session, participants were able find out both about each other and their future property plans. The workshop took attendees through a step by step process to help them develop a property management plan. Everyone was guided through the process of describing their current situation and their future plans using a range of tools including personalised property maps, which set the foundation for the rest of the program.
The second workshop was hosted by Philip and Robyn (participants of the program) on their property at Nicholls Rivulet and focused on soil and water management. This workshop involved some hands on work in the paddock, finding out ways to assess soil and water health and how to protect these precious resources to help make properties productive and healthy.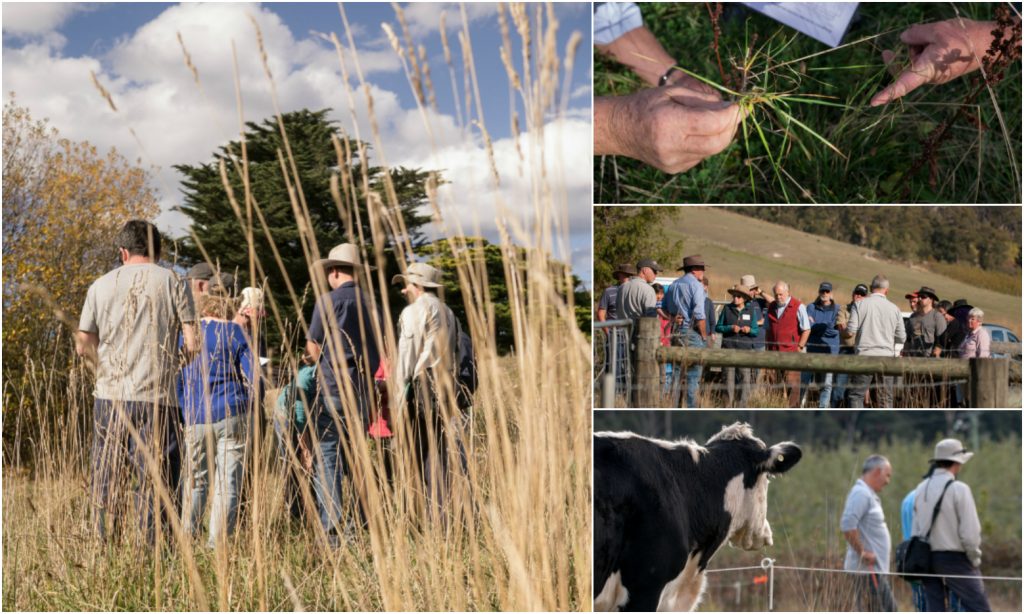 Workshops 3 and 4: Growing grass and growing meat!

The theme of workshop three, hosted by Mark and Deanne, was to learn about the fundamentals of pasture management, including how to identify and use pasture plants (including weed species) and finding out more about what's actually happening in the paddock. Limiting factors in pasture health were also discussed, as well as how using small trials to test pasture growth response can be a valuable decision-making tool, for example placing wallaby exclusion cages in pasture to help assess pasture loss through wallaby browsing. Other subjects covered included animal welfare and biosecurity and how disease prevention is better than cure.
The fourth workshop, hosted by Gerard and Debra on their Nicholls Rivulet property, covered the key principles in marketing  – tailored to small producers  – and the basics of holistic planned grazing. Planned Grazing is an alternative type of grazing management that aims to reduce costs while improving pasture health. Gerard and Debra have been using this method for several years and have seen great improvements in pasture and soil health across their farm. It was really inspiring to hear how they manage their pastures and perennial crops, and why they decided to take this approach. The group gained an introduction to holistic land management including how to assess pasture and animal performance, the pros and cons to managing livestock using this system and how working with nature can be a useful risk management tool. The main message throughout the workshops was that regardless of the type of approach that people choose to use on their own property, having a grazing plan and maintaining good ground cover in pastures (>90%) is key to pasture health.

Workshop 5: Managing weeds, native vegetation and revegetation
The final workshop was hosted by Tim and Morgan at their property in Longley, and while this was the last workshop for the 2016 program, it's only the beginning for many who attended the program in making real changes and starting to realise their property plans and dreams. The main focus of the day was weed management, native vegetation, and revegetation, action planning and local networks.
Cassie Strain discussed how to manage weeds in the most strategic way while John Easton provided information about the wide range of weed control techniques available to land holders and reinforced the need for an integrated approach when managing weeds. Janet and Rob Smith covered the topic of the importance of native vegetation for wildlife and farm productivity.
Local networks provide a mechanism for everyone to continue to share knowledge and resources, with mentions of the Huon Producers Network, Sprout Tasmania and the Huon and Channel Farming group.
Over the five sessions, participants gained an understanding of the process of property management planning, with detail on specific areas and consideration of the protection of natural resources, and gained an understanding of new sustainable farming concepts, such as holistic grazing.
These workshop were run by NRM South through the National Landcare Programme and supported by Huon Valley and Kingborough Councils.