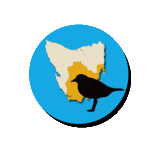 The South East Regional Shorebirds Alliance (SERSA) is a collaboration with multiple government and not-for-profit organisations to support community efforts in Southern Tasmania's east coast to protect beach nesting shorebirds. This includes  threatened Terns, Hooded Plover, Little Penguin; and Pied and Sooty Oystercatchers and Red-capped Plover. For many shorebird species, numbers are in serious decline due to increased disturbance and in peak breeding season resulting in reduced success rates for breeding pairs. Shorebirds generally nest in the back of beach, away from the shoreline, and eggs are laid into small depressions in the soft sand or directly on coastal vegetation/pebbles. Eggs and chicks are sand coloured /mottled and well camouflaged.
Download a DL flyer on shorebirds
Download an educational SERSA poster
SERSA partners include NRM South, Glamorgan Spring Bay, Tasman, Sorell, Clarence, Kingborough, Huon Valley Councils and Crown Land Services, with Tasmanian Parks and Wildlife Service and key partner BirdLife Tasmania. Through collaborative regional awareness raising and engagement activities, and on ground strategies, including continual monitoring of shorebirds, interpretive signage, fencing around breeding areas, dog exclusion areas, vehicle access restrictions and pest animal monitoring/control, SERSA are working with community to minimise breeding impacts.
SERSA have worked together as a regional collaborative for 2 years with on ground action, resource development and sharing, engagement and awareness-raising activities. BirdLife Tasmania's state-wide monumental and continual efforts surveying all soft sand environments around Tasmania have provided extensive knowledge and data that support strategies for SERSA partners. The alliance of these key coastal organisations has enabled regional awareness raising and regional shorebird habitat management, SERSA has also supported the efforts of coastal community groups also working to protect key shorebird habitat and engaged with coastal primary schools through activities such as "Shorebird Postcards" competitions.
Key achievements include Discovery Rangers summer shorebird activities, targeting visitors and community, around the coast (engaging over 4000 individuals over 2 years) and partnering with and supporting BirdLife Tasmania involvement as the knowledge hub for the alliance partners. SERSA have also developed a wide range of branded resources, including "I'm a wet sand walker and I don't chase chicks" dog leads, that have been distributed or displayed at events, activities and visitor centres to support awareness and encourage positive actions for beach goers. Since SERSA was formed, the collaboration have directly engaged with 7284 people, in and around beaches during peak breeding seasons.
Coming up this Summer, expect to see more Shorebird themed activities in coastal areas run through local PWS Discovery Rangers, and even as you arrive on the Spirit of Tasmania and Hobart Airport! These dedicated rangers will be out and about talking to beach goers, running fun family friendly outdoor activities,  and providing important information on ensuring the breeding success of these shorebirds during Summer. More on the 2015/16 Discovery Ranger Program can be found here
The South East Regional Shorebirds Alliance recently won the Government Partnerships with Landcare award at the State Landcare Conference and Awards in October 2015. SERSA will represent Tasmania as finalists in the National Landcare awards for this category.
Main Photo: Discovery Rangers running shorebird events, photo Sam Cuff PWS
Left: Minister Groom with award winners, Dogs on Leads, Watch where you step, temporary fencing protecting beach nesting shorebirds