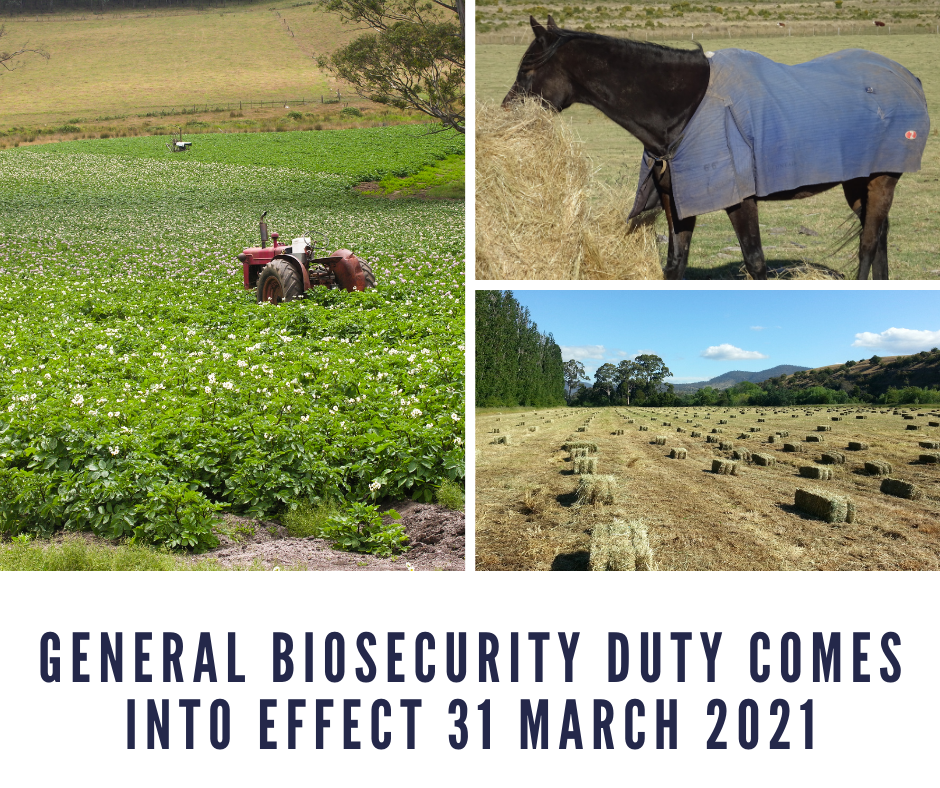 We all have a duty of care to take action or precautions against biodiversity threats. The 'General Biosecurity Duty' (GBD) is a legal obligation under the 2019 Biosecurity Act that comes into effect on the 31 March. By taking simple precautions such as cleaning equipment of dirt or seeds when we move between sensitive sites (such as farms, wilderness areas or waterways) or keeping an eye out for anything out of the ordinary after we bring hay, grain or stock onto our properties, we are all playing an important role in keeping our island free from pests, weeds and diseases.
For a comprehensive guide to a range of activity-based resources, visit our biosecurity page https://nrmsouth.org.au/biosecurity/ and for more information on the GBD, visit https://dpipwe.tas.gov.au/biosecurity-tasmania/general-biosecurity-duty-(gbd)
Tasmania's isolation and history of careful management has helped to keep our island free from many of the pests and pathogens that have devastated other parts of the world. NRM South works with a range of groups and individuals – including agricultural producers, community groups and volunteers – to manage biosecurity issues in Tasmania.
However, while we can be proud of our extensive weed eradication programs and world-class quarantine procedures, it only takes one careless act to introduce a weed, pest or pathogen into our natural or agricultural environments – and some of these can spell disaster.

Tasmanian Biosecurity protocols are designed to protect the many natural places and industries that rely on this reputation. We each have an important role to play when it comes to preventing the spread of unwanted pests, weeds and disease-causing pathogens. The sole of a walking boot, a dirty vehicle chassis, or a contaminated pair of waders can easily carry a harmful hitchhiker.
If you plan to venture into Tasmania's wilderness areas please follow our Check Clean (Disinfect) Dry protocol.
Check for any source of contamination (soil, mud, water, plant material)
Clean your gear
Dry it thoroughly to deprive pathogens and pests the moisture they need to survive. Drying is often tricky in Tasmania – especially with gear like neoprene waders, which take at least 48 hrs to dry.
Disinfect. If there's any doubt that your gear will dry completely, treat it with a disinfectant such as F10 (a biodegradable, low toxicity veterinary disinfectant available from NRM South).
The more people who do the right thing, the less chance there is of a damaging incursion of a pest, weed or pathogen. And if a problem does arise, it will be easier to manage if it isn't too widespread.
ACTIVITY RESOURCES
Click on the resource links below for how-to information on Check, Clean, Disinfect, Dry practices for your activities.
RECREATION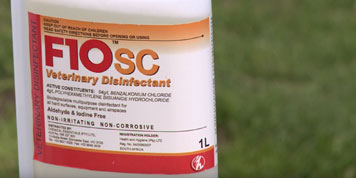 Biosecurity Field Hygiene kits
NRM South can provide you with a Biosecurity field hygiene kit so that you can Check Clean (Disinfect) Dry on the go. This kit contains everything you need to minimise your risk of spreading pests, weeds and pathogens.