Protecting the Breeding Population of Swift Parrots
The critically endangered Swift Parrot (Lathamus discolor) migrates annually from mainland Australia to breed in Tasmania. Arriving around springtime, they seek out our flowering blue and black gums, form mating pairs and spend their summer raising chicks. While they often reuse the same nesting sites, they don't always turn up at the same site over successive years due to variability in flowering from year to year. This unpredictability can pose challenges when it comes to conservation efforts.
Our project worked on solutions to improve breeding success for Swift Parrots by focusing on how to protect Swift Parrots from sugar gliders, as well as protecting and improving key habitat areas.
Our Approach
This project helped to protect the breeding population of Swift Parrots through;
A series of short pilot projects to investigate whether localised sugar glider control can be an effect method of protecting swift parrots. The outcomes of these studies will inform the best strategies for longer-term control projects. 
Protecting high-value functional breeding habitat in important Swift Parrot breeding areas on private property through conservation covenants, and their associated natural values management plans.
Engaging with landholders, school groups and members of the public to increase awareness and knowledge of the plight of Swift Parrots and how to assist with their recovery.
PROJECT PILLARS SWIFT PARROTS
Background
Swift Parrot numbers are in decline and they are at risk from a number of factors, including habitat loss, competition for nesting sites and predation of chicks and eggs by sugar gliders.
Swift Parrot nesting locations are highly variable across the landscape, and from year to year, which in turn influences the impact that project activities will have each year – and the overall likelihood of positive conservation outcomes for Swift Parrots in the short, medium and long term. This variability is being addressed through an adaptive management approach; regularly evaluating outcomes and modifying delivery mechanisms to suit. A pre-emptive approach (developed by researchers from the ANU's Difficult Bird Research Group (DBRG)) to predict the breeding locations of Swift Parrots each year involved annual eucalyptus flower bud surveys in the lead-up to the breeding season, which informed management actions for that breeding season.
Sugar Glider Research
Native to mainland Australia but introduced to Tasmania in the 1800s, Sugar Glider diets include eggs, insects, lizards and small birds and their impact on Swift Parrot populations in Tasmania has been devastating. It is estimated that nearly 85% of the Swift Parrot population is at risk each season of being killed by sugar gliders. The exception being years when Swift Parrots nest off predator offshore islands such as Bruny and Maria Island.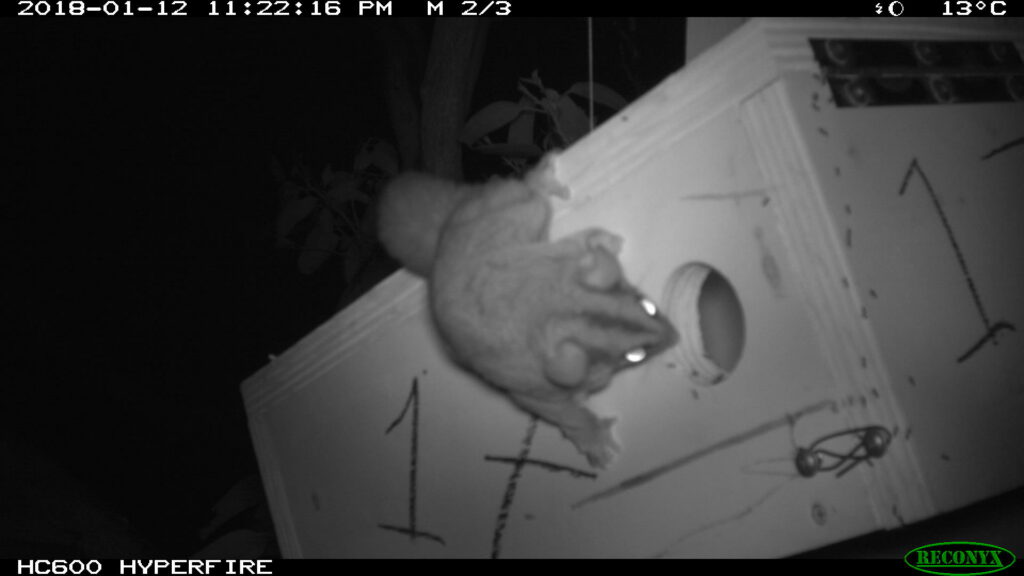 Sugar gliders eat Swift Parrot eggs, chicks and even the adult female who sits on the nest at night, drastically decreasing the reproductive success of the species. Research has shown that sugar gliders can impact up to 79% of nests, and 65% of breeding females in Tasmania can fall victim to sugar gliders each year. Sugar gliders are the only predators able to access most Swift Parrot nests due to very specific nest dimensions. 
NRM South hexplored ways of reducing the impacts of sugar glider predation on breeding Swift Parrots. Four field trials carried out between 2019 and 2022 attempted to demonstrate an efficient and cost-effective way of controlling sugar gliders in Swift Parrot habitat. 
These trials had mixed results with progress impaired by a lack of understanding of sugar glider ecology in Tasmania. While there is a reasonable body of research on sugar gliders from mainland Australia, there a comparatively few studies from Tasmania. Understanding of their basic ecology, such as habitat preferences, home range size, diet over winter, seasonal variation in vocalisations and breeding patterns, remains relatively limited. 
Despite these knowledge gaps, the trials have progressed our understanding of how best to trap and control sugar gliders in Tasmania. 
Flower Bud Surveys
Swift Parrots have a very specific diet and rely exclusively on the nectar of blue gums (Eucalyptus globulus) and black gums (Eucalyptus ovata) to feed their nestlings. These are also their preferred nesting trees, so healthy blue and black gum forest is incredibly important for the busy breeding season.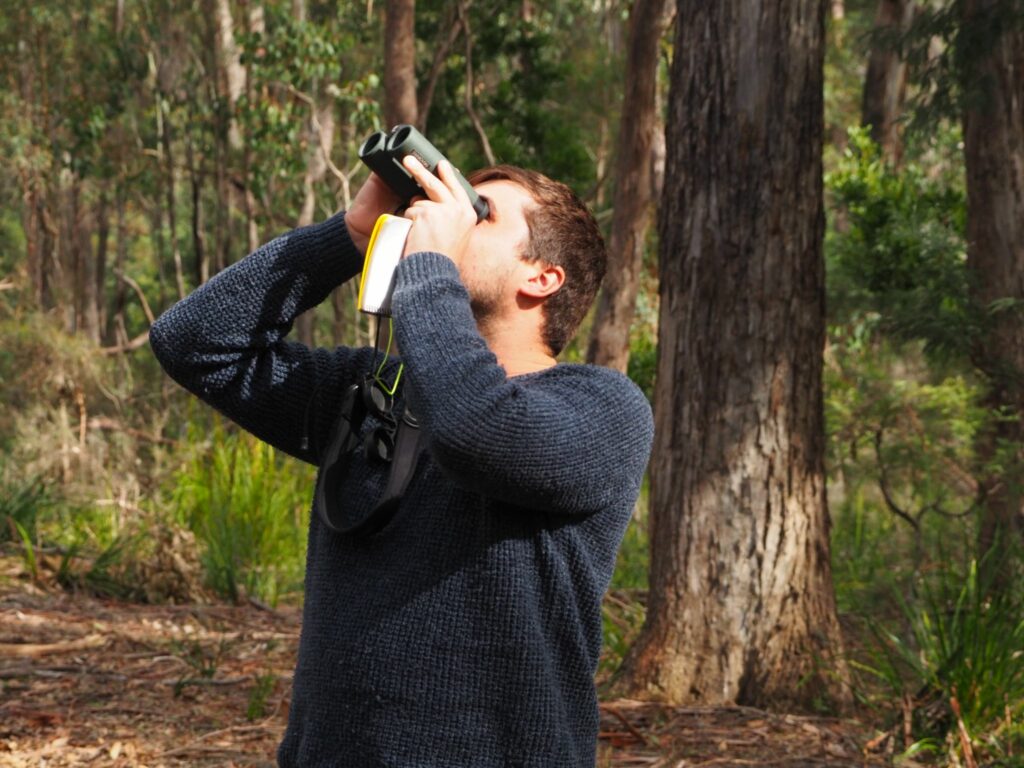 As part of this project, we supported researchers at the Australian National University (ANU) to carry out annual flower bud surveys. The purpose of these surveys is to help predict where and how much blue gum and black gum flowering will occur across south-eastern Tasmania and therefore predict where birds will nest each year. Eucalyptus flower bud development occurs over many months so the bud surveys can be completed before the first Swift Parrots arrive for their breeding season. 
Conservation Covenants
Access to high quality habitat is key to the survival and recovery of the rare and threatened Swift Parrot. Swift Parrots rely on tree hollows of a specific size and height, that are located relatively close to their food source – nectar from Tasmanian blue gum and black gum flowers. Just 5% of tree hollows are suitable for nesting Swift Parrots therefore protecting good quality Swift Parrot habitat across a range of sites is an important step in their conservation. 
NRM South has worked towards this goal by supporting project partner, the Tasmanian Land Conservancy, to establish conservation covenants to identify and protect high-value Swift Parrot habitat on private land.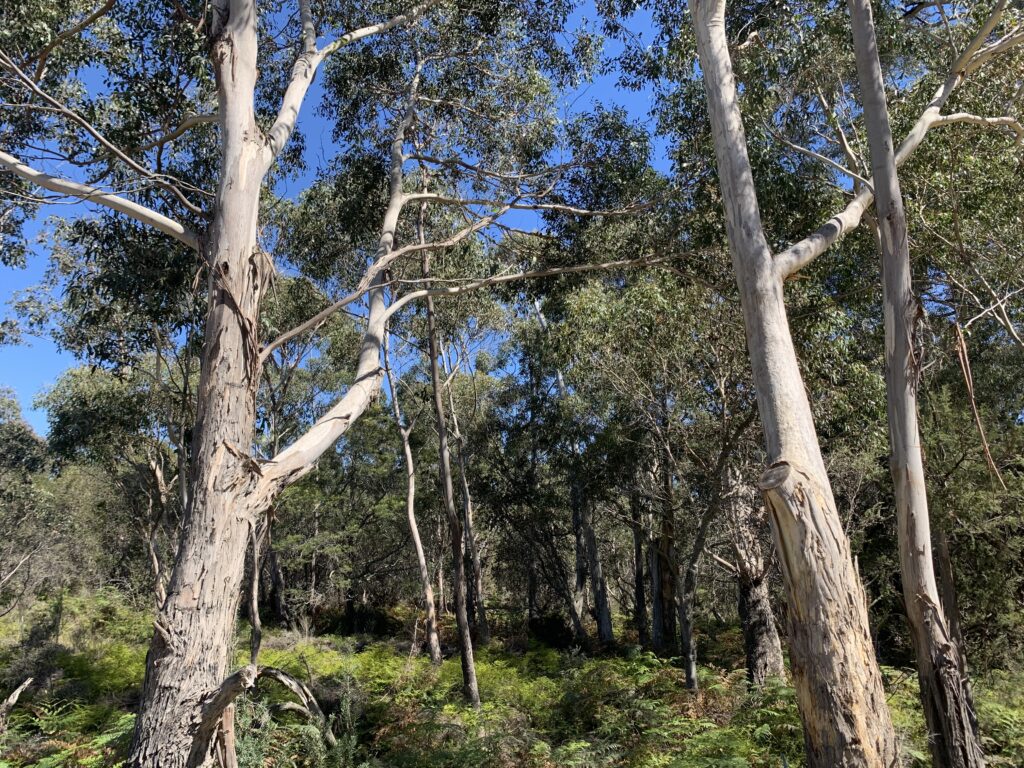 Community Engagement
To help raise awareness about the plight of Swift Parrots, NRM South have run annual public field days at Inala Reserve with both schools and the wider community, on south Bruny Island. Inala is an important protected area where Swift Parrots regularly visit every spring and summer. These field days have been hugely successful with people attending from all over south-east Tasmania. An additional two field days were run with the Bruny Island school, with the kids learning about what it means to be migratory and nomadic and how we can help protect Swift Parrots. 
The project also worked with Conservation Landholders Tasmania to run field days and workshops each year on Swift Parrot conservation. These events aimed to increase awareness of landholders on the project and the importance of private land conservation for Swift Parrot recovery.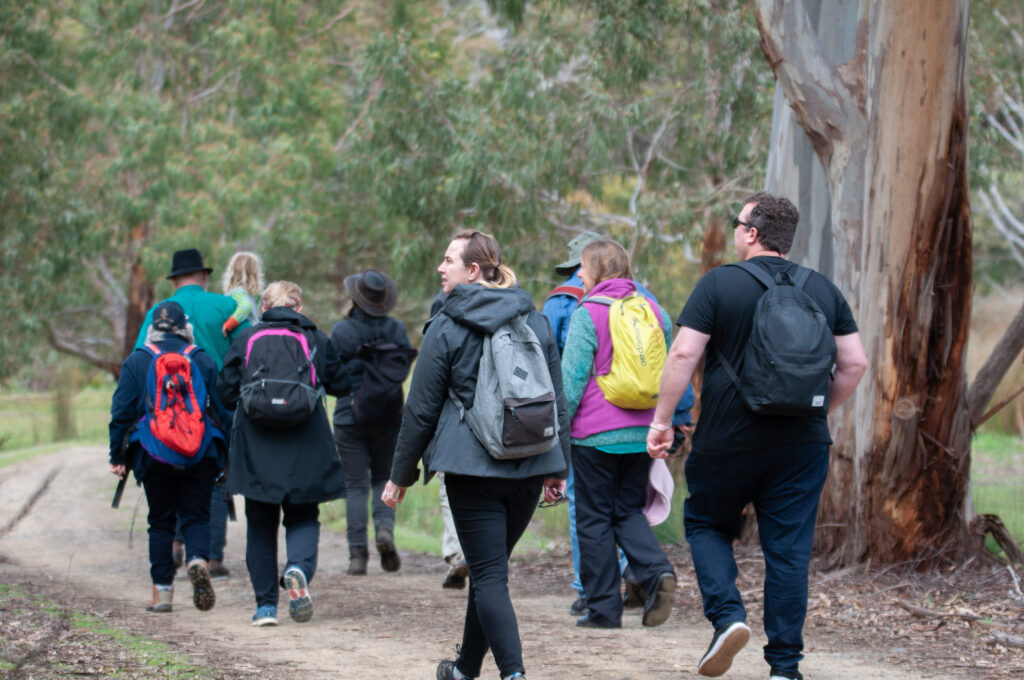 Project Achievements
Four conservation covenants covering

377

ha.

Pilot study completed to assess whether localised Sugar Glider control would reduce nest predation of Swift Parrots. The results prompted further work to improve trapping effectiveness and cost-efficiency.

 

Trials completed investigating how to increase Sugar Gliders use of nest boxes, with the aim of using them as an alternative to traditional trapping techniques.
Key Milestones
3 sugar glider control trials
What's Next
This project is funded until June 2023. We hope to continue to build on this project and continue implementing and supporting initiatives for Swift Parrot conservation.