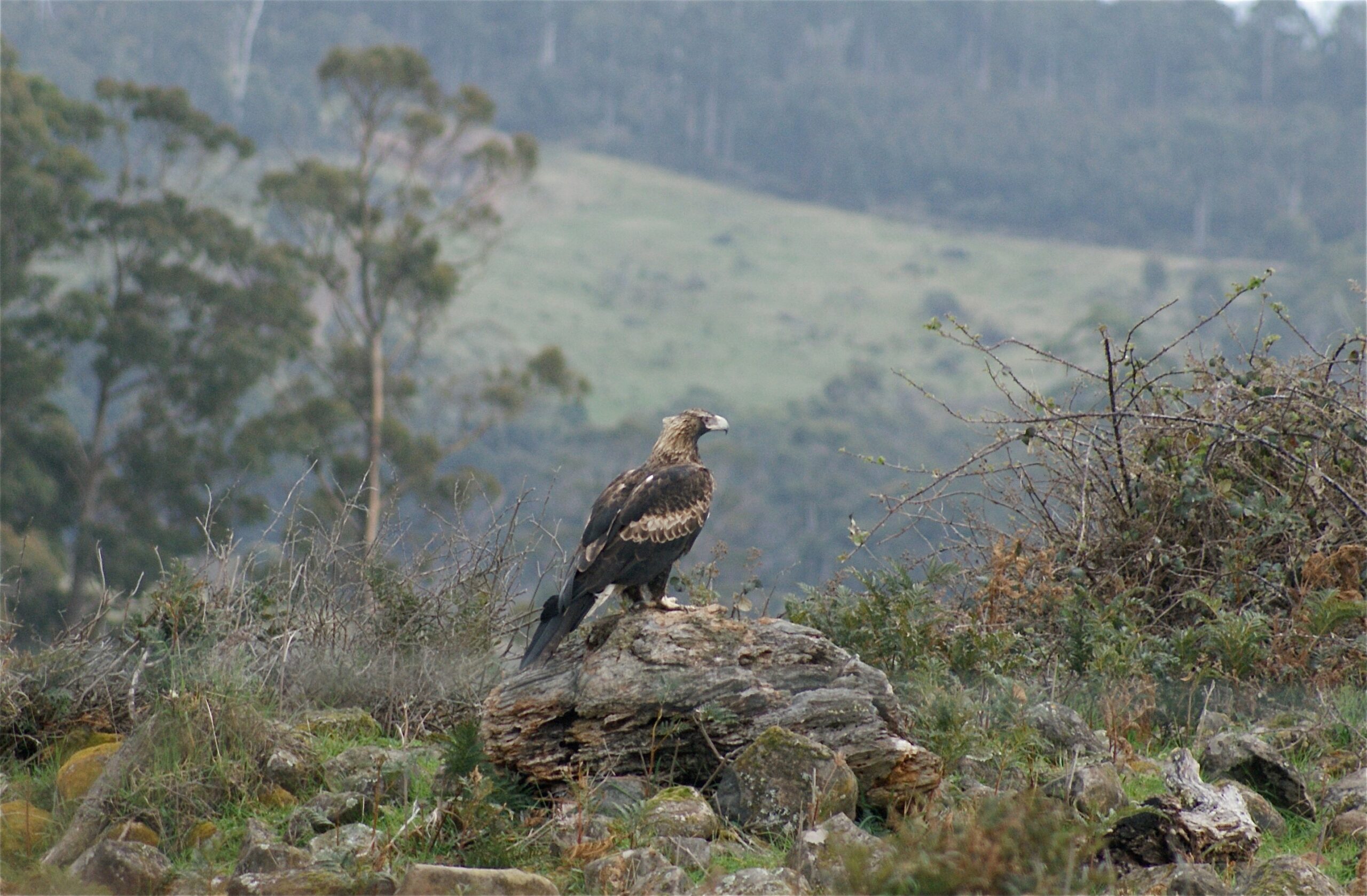 SUMMARY
NRM South is administering the Wedge-tailed Eagle Research Fund, which serves to offset the potential impact of Wedge-tailed Eagle mortalities (or injuries preventing rehabilitation and release) due to collisions with wind turbines.This fund is supporting high quality ecological or other relevant scientific research on Tasmanian Wedge-tailed Eagles, the results of which will assist with their management and protection.
BACKGROUND
Despite sharing the same name, Tasmania's Wedge-tailed Eagle (Aquila audax fleayi) is considered to be a separate sub-species to Australia's mainland population. While their situation is relatively secure in mainland Australia, the state of Tasmania's population is a lot more precarious. Listed as Endangered under both the Tasmanian Threatened Species Protection Act 1995 and the Commonwealth Environment Protection and Biodiversity Conservation Act 1999, current population estimates are around 1,000 adult birds.
Threats to Wedge-tailed Eagles include loss of habitat (particularly nesting habitat) and mortalities from interacting with the human world – including their active removal by shooting, trapping or poisoning; collisions with powerlines, vehicles, fences and wind turbines; electrocution on powerlines; oiling, entanglement and pollution.
FUNDING
This Research Fund has been established as an offset requirement for the Cattle Hill Wind Farm, which is 80% owned by the Power China Group and 20% by the Goldwind Group.
APPROACH
There is a lot that is still not understood about Tasmania's Wedge-tailed Eagles in Tasmania, and NRM South will be looking to address some of these knowledge gaps via the establishment of the Wedge-Tailed Eagle (WTE) Offset Fund for Cattle Hill Wind Farm. This fund is supporting high quality ecological or other relevant scientific research on Tasmania's Wedge-tailed Eagles, the results of which will assist with the management and protection of the sub-species.
An independent Technical Advisory Committee has been appointed to oversee the Fund. They will decide which projects are supported by the Fund and monitor progress of the projects that have been supported. This committee is comprised of the following members:
Dr Sarah Munks (independent member)
Dr Phil Bell (independent member)
Dr Ivan Lawler (Department of Agriculture, Water and Environment)
Rachael Alderman (NRE Tas)
Dr Cindy Hull, Chair (NRM South)
ACHIEVEMENTS TO DATE
One successful research project underway from Round 1 of funding (2020)

Investigating the spatial ecology and habitat use




of the Tasmanian wedge-tailed eagle

using high-frequency GPS telemetry in

unmodified landscapes. Elissa Cameron and James

Pay (UTas), Todd Katzner (US Geological Society),

Amelia Koch and Jason Wiersma (FPA). Completed

Round 2 of funding rolled out in May 2021, two projects selected in September 2021. 1)

Estimate the population size of the Tasmanian




wedge-tailed eagle (

Aquila audax fleayi

) using modern

genetic techniques. James Pay, Chris Burridge and

Jakob Butler (UTas), Dejan Stojanovic, Catherine

Young and Adam Cistern (ANU), and Judy Clarke

(TMAG). 2) Monitoring wedge-tailed eagle population trends.
Supporting the analysis of the data obtained in the Where, Where Wedgie study. Clare Hawkins (Bookend Trust) and Joanna Potts (The Analytical Edge).


The third round of grants were advertised in June

2022 and the successful recipients will be announced

in 2022/23.