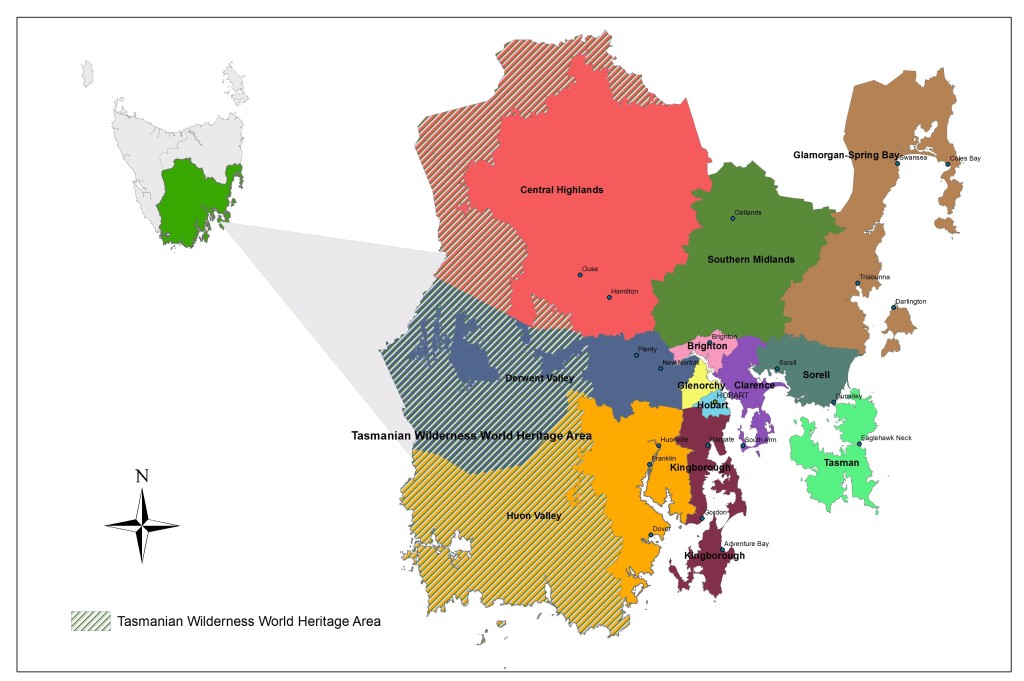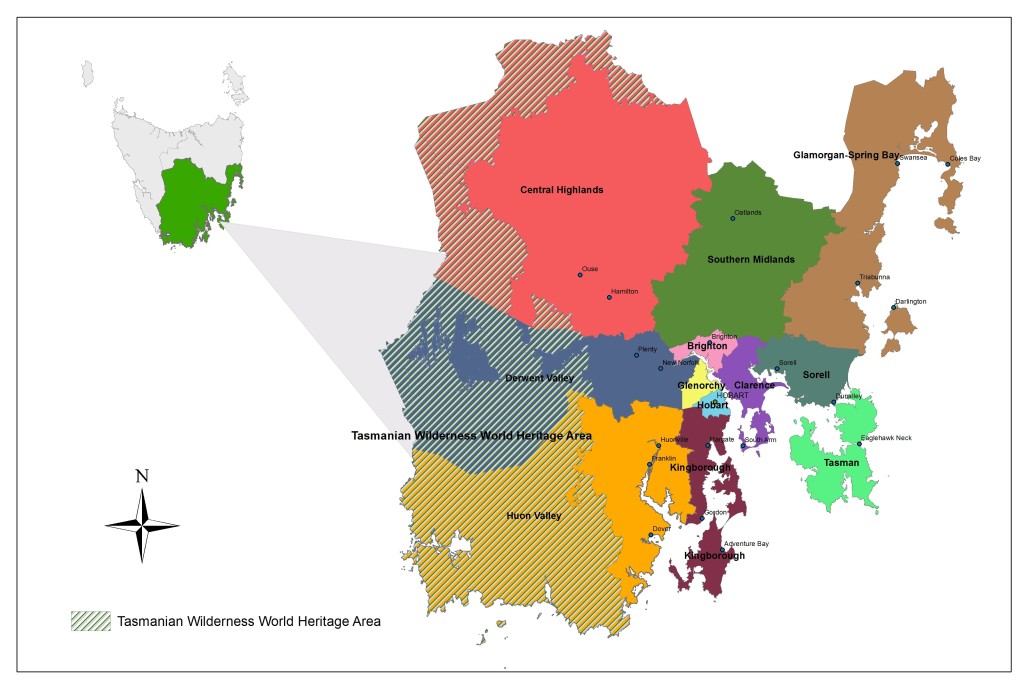 The Southern Tasmanian NRM Region covers 2.5 million hectares, including Hobart and its urban fringes and towns. Supporting almost half of Tasmania's population of 514,000 it spans the 12 municipalities of Brighton, Central Highlands, Clarence, Derwent Valley, Glamorgan Spring Bay, Glenorchy, Hobart, Huon Valley, Kingborough, Sorell, Southern Midlands and Tasman as well as the state and federal electoral divisions of Franklin, Denison and roughly one-third of Lyons. It encompasses the world heritage areas of the South West Wilderness and Macquarie Island, four internationally recognised Ramsar-listed wetlands, seven national parks and 22 marine reserves, and an array of varying ecosystems with high terrestrial, estuarine and marine biodiversity.
Its people cover a broad social and demographic spectrum, and are employed in a variety of industries from aquaculture to government administration, renewable energy to food production. Industries such as agriculture, fisheries, forestry and tourism rely on the region's natural resources for current and future success, and contribute significantly to the region's economy and identity.
Southern Tasmanians are energetic volunteers and there are over 120 community groups caring for bushland, coastal areas and cultural heritage in the region. There are also many active landholder and farmer groups working to improve the management of natural resources.
Southern Tasmania's wealth of natural resources underpins its economic, social and environmental wellbeing. Its richness of natural assets and diversity presents both opportunities and complex management challenges.
OUR REGION'S VALUES
Biodiversity
Southern Tasmania's wide variety of physical conditions mean that our region has many very different ecosystems with a wide variety of flora and fauna. This means that Southern Tasmania is extremely biodiverse. NRM South is working with the community throughout the region to better understand, protect and manage our biodiversity.
Land management
Southern Tasmania has large tracts of agricultural land and other areas managed by farmers and private land managers. To address land management issues across the region NRM South is working with our farmers and private land managers through subregional coordinators in priority areas.
Freshwater
Southern Tasmania has an abundance of freshwater and freshwater dependent values including: 4 Ramsar listed wetlands, 27 wetlands listed on the Directory of Important Wetlands Australia and many threatened, rare or endemic freshwater fauna. NRM South is working with the community throughout the region to better understand, protect and manage these diverse freshwater assets.
Coastal, Estuarine and Marine
The Southern Region contains approximately 40% of Tasmania's coastline. NRM South is working with the community throughout the region to better understand, protect and manage our diverse estuarine, coastal and marine assets.
Aboriginal heritage
The following statement was prepared and endorsed by the Tasmanian Aboriginal Land Council, Tasmanian Aboriginal Centre and the Aboriginal Land Council of Tasmania at Risdon Cove on 25 June 2004.
A Statement from the Aboriginal Community
Aboriginal people have lived on the islands that make up Tasmania for upwards of 40,000 years, living interdependently with the land throughout that time.
Many of the values Aboriginal people hold as important exist within and across the wider landscape, and respect, management and protection of those values is seen as a broad Tasmanian community responsibility.
The whole landscape is part of the story. All Aboriginal sites are important in that each one is an integral part of the country.
In recent times, the Tasmanian Aboriginal community has progressed from being dispossessed of land a little over 200 years ago to having a small amount of that land returned (in 1995). Other areas of land have been purchased by the Aboriginal community. With the return of land, a number of land management problems, resulting from historical and contemporary European land management practices, have been inherited by the Aboriginal community.
Aboriginal land management knowledge and practices have been increasingly acknowledged by sections of the wider community. Aboriginal people have strong physical and spiritual links with country. Land management expertise of the old people has survived. Today's Aboriginal community is also developing knowledge and skills of contemporary land management practices.
The aim of this statement is to promote the views, needs and aspirations of Tasmanian Aborigines in relation to sustainable natural resource and land management that ensure protection and enhancement of Aboriginal culture and heritage values throughout Tasmania.