Nicole King joined the South East Tasmanian Aboriginal Corporation as a trainee ranger in 2022, with support from NRM South through our project to manage feral, stray and domestic cats on Bruny Island. Funded through the Australian Government's National Landcare Program, this project is working with partners on a range of strategies to help protect Bruny Island's native species. One year on, Nicole has shared some of her thoughts and experiences working as a ranger with the program and on Bruny Island.
My name is Nicole and I have been privileged enough to be given the opportunity over the last twelve months to do a Traineeship as an Aboriginal land Management Officer.
I have always had a love and connection to my Country. I have always loved being outside on Country whether in the bush or at the beach. My background had always been hospitality since a young age and in 2020 I decided to make a career change and did a Cert III in Community Services. I was then lucky enough to secure a work placement with SETAC and I have never looked back.
SETAC has helped shape the person I am today and helped me to connect with my Culture. I found I had a love for Cultural Burning and without realising it I had already been putting these practices into my everyday life. This hunger grew through going out into the bush with a couple of mates who are now my brothers and learning from them. I think SETAC knew this when they offered me this Traineeship as I cried and said YES!
This opportunity would not have been able to happen without these businesses and I cannot thank them enough for this opportunity, these include South East Tasmanian Aboriginal Corporation, Kingborough Council, Bruny Farming and Natural Resource Management South. Those individuals know who they are, and I thank them from the bottom of my heart. There are other individuals I have met through this journey and who have helped shape the person I am today, they work for patrula nayri, nita Education, Landcare Tasmania, Tasmanian Conservation, Invasive Species, weetapoona, Parks, Huon Valley Council and I am sure I have missed some.
While doing my Traineeship I have also completed a Cert III at Tas Tafe in Conservation and Ecosystem Management. I have made some lifelong friends while doing this through our natural love of the environment.
One of my highlights is taking a class to Murrayfield on Bruny Island with patrula nayri and teaching them how and why we do Cultural/Cool burning. There was a lot of emotions flowing over those couple of days and I feel it helped the class understand myself better and made us more like a family rather than just classmates.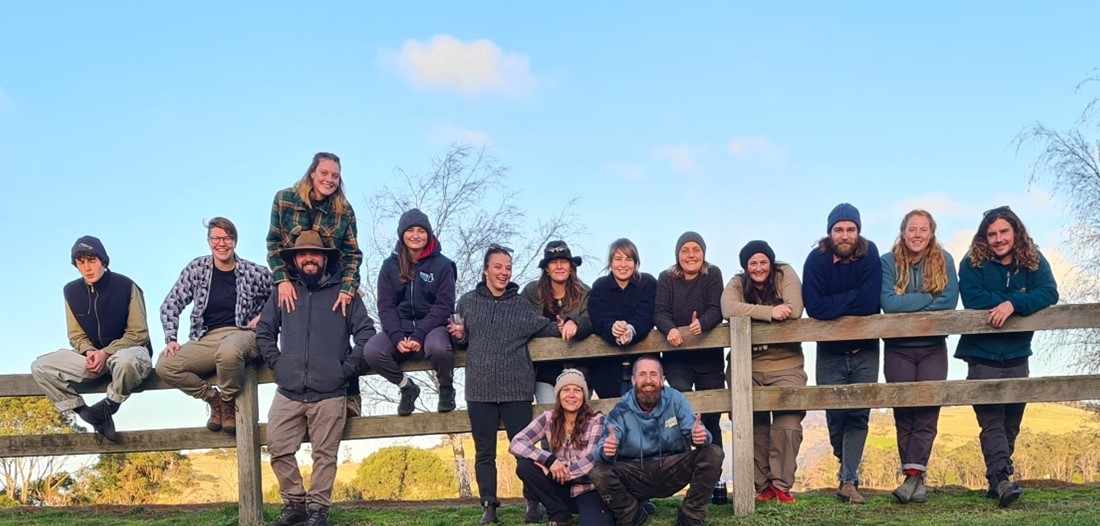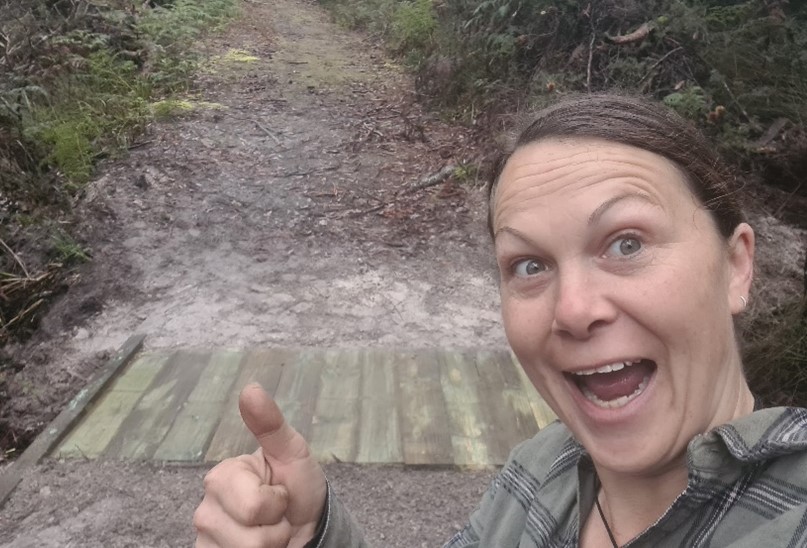 Another highlight was the time I got to spend with the Koori Country Fire Mob on country in October. The sharing of culture, stories and burning was grounding, emotional and welcoming. I learnt and successfully lit a fire with sticks for the first time. I now have these sticks on my special shelf at home as they were given to me as a gift from the KCFC.
Another highlight was building a bridge with Matt. It was fun until I had to drive over it and see if it would stay up. There was a happy dance when this was a success. My stories of highlights could go on and on as there are so many of them due to amazing people I have gotten to work with.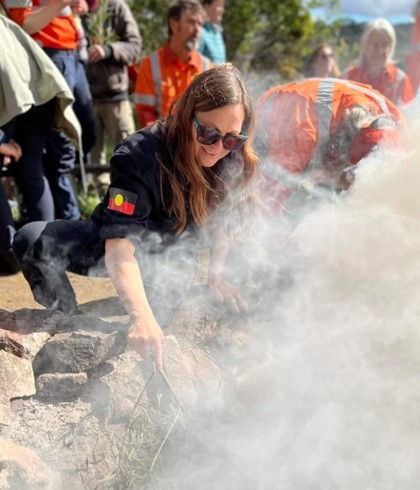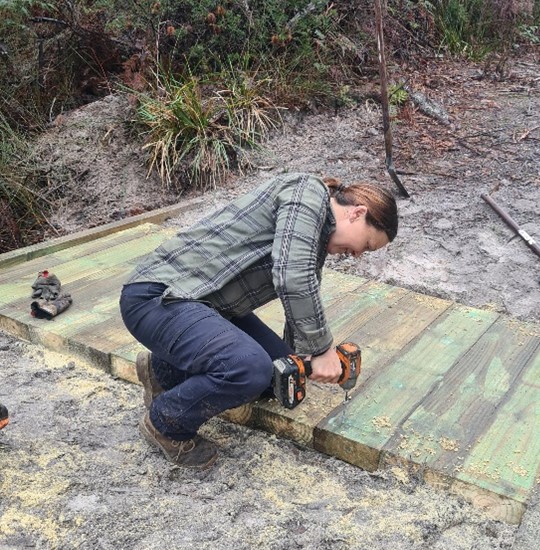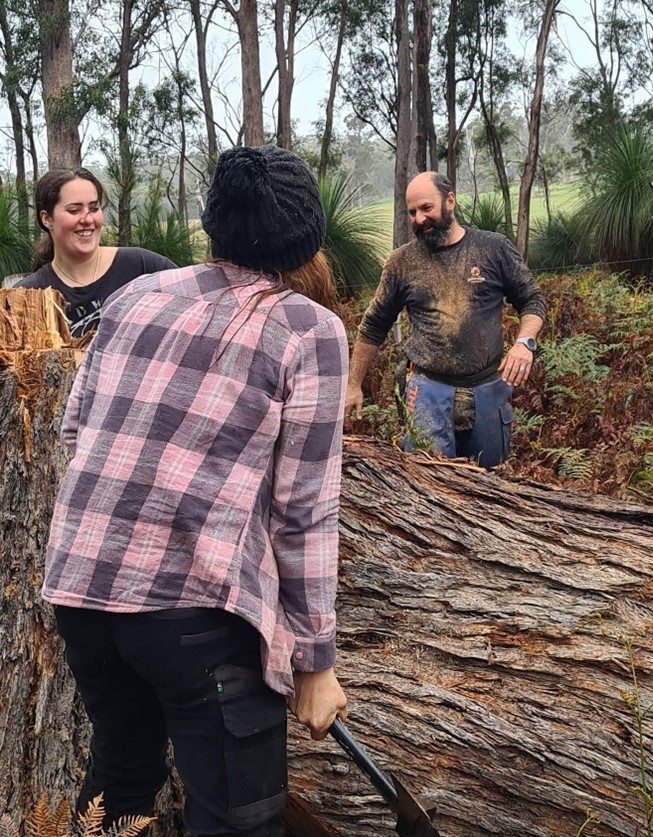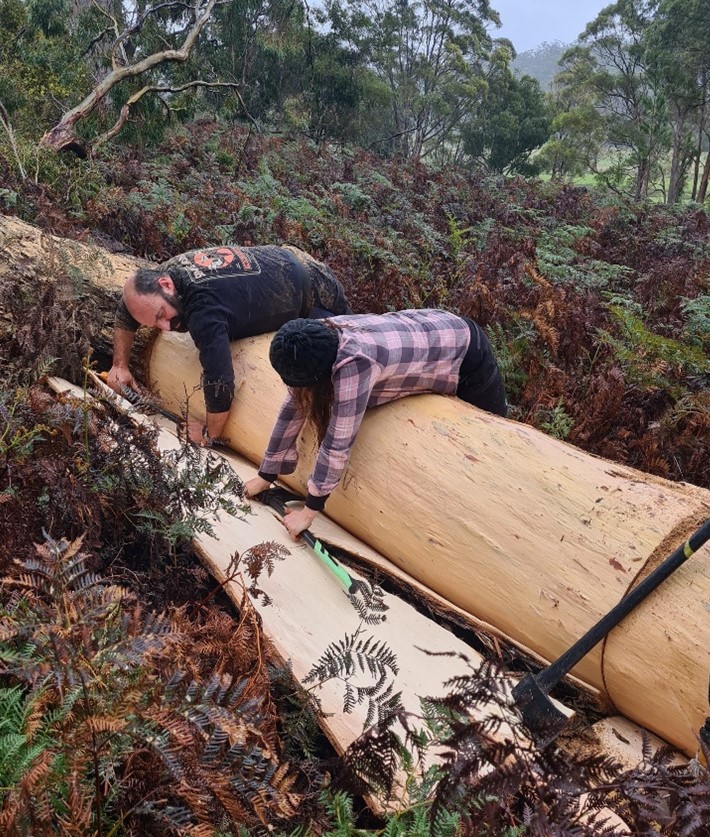 Some of the things that I have been able to learn more about over this time include my culture, my connection to land and my love for it, a better understanding of environmental ecosystem, native plant names and their uses, the best ways to collect and propagate native plants, the impact of invasive species particularly cats and how to deal with these threats through community engagement and trapping, machinery maintenance, various weed control techniques, how to collect data through field work and monitoring and report on my findings, land surveying, bridge building, fencing, and numerous licences to help me preform the many tasks I have been privileged to learn.
I am looking forward to fine tuning these skills for the rest of my life and extending my studies into further qualifications.
Thank you to everyone who has helped me on this journey. My four children and close friends have been with me through every step of this journey. I love you all. This is in no way goodbye though as I look forward to working with you all to help heal this land, we all call home.