If you are involved in field-based research work in Tasmania then you are likely to get to go to some pretty remote and special places. The risk we all face is inadvertently spreading an unwanted weed, pest or pathogen that was not found in the area before your visit; if you are contaminated with an unwanted hitchhiker, even a single visit can introduce the problem.
It is critical that you include biosecurity considerations into your site risk assessment and other workplace health and safety planning prior to undertaking your work.
Through our Biosecurity Network we are targeting users of Tasmania's wilderness areas – fishers, bushwalkers, kayakers, four-wheel drivers, mountain bikers to name a few – to encourage them to adopt hygiene practices that reduce the risk of spreading unwanted pests, weeds and pathogens throughout the state. This is known as our Check, Clean, Disinfect, Dry campaign.
>> Read the full story
Check, Clean, Dry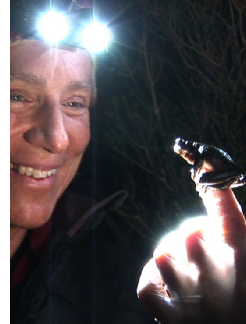 Clearly, as professionals engaged in fieldwork you too have a responsibility to adopt good field hygiene practices.
Planning is key, but hygiene is the last line of defence and it should be routine in your organisation.
You should be familiar with our field hygiene manual Keeping it Clean. This manual has specific information for a range of field-based research activities such as working with frogs and platypus, firefighting, use of boats, trailers and heavy machinery.
Our range of videos on biosecurity will help to inform you of the nature of the problems we face and what we're currently doing about them.
Protecting Tasmania's frogs
More info
If you'd like to know more about our Check, Clean, Disinfect, Dry campaign please get in touch with NRM South.