Most people who've visited Tasmania know about our strict quarantine laws; you might have even met in person one of our highly-trained sniffer dogs at an airport or shipping wharf. These four-legged crusaders are doing their bit to prevent fruit and vegetables that may harbour pests or disease-causing pathogens from coming into the state.
But there are other quarantine problems Tasmania faces that our sniffer dogs can't help with.
There's a fungus called Chytrid, already present in eastern and northern Tasmania, that threatens to wipe out our native frogs, a key link in our ecological food chain.
Knocking at our door from New Zealand is an algae that chokes rivers so badly that whole waterway systems effectively die. Its common name is 'rock snot', which might tell you a little about what it's like. If these pests take hold our environment will be unrecognisable.
>> Read the full story
Check, Clean, Dry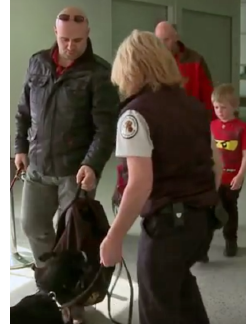 The challenge we face is that tourists who bring their vehicles to Tasmania unwittingly risk also carrying an unwanted hitchhiker like Chytrid or Didymo.
To help us prevent the spread of unwanted pests, weeds and pathogens we ask that you follow some simple hygiene procedures.
Some people from other states believe that if their vehicle is clean before they get here then there's no need to be so careful when moving between sites in Tasmania.
That's not the case. We already have some introduced pests, weeds and disease-causing pathogens in this state and it is vital that we limit their spread.
Make sure your car, caravan, and all the equipment you bring into Tasmania – before you get on the ferry. Check, Clean and Dry your vehicle and all your equipment.
If you find yourself venturing into our wilderness areas it's crucial that you clean your vehicle and equipment before you move to a new site, for instance at a caravan park or service station.
Because in Tasmania it's notoriously difficult to get things dry it pays to carry a disinfectant as well, which will kill any pests that might be lurking in hard-to-reach places.
These videos will help you to understand the significance of the problem we face here in Tasmania.