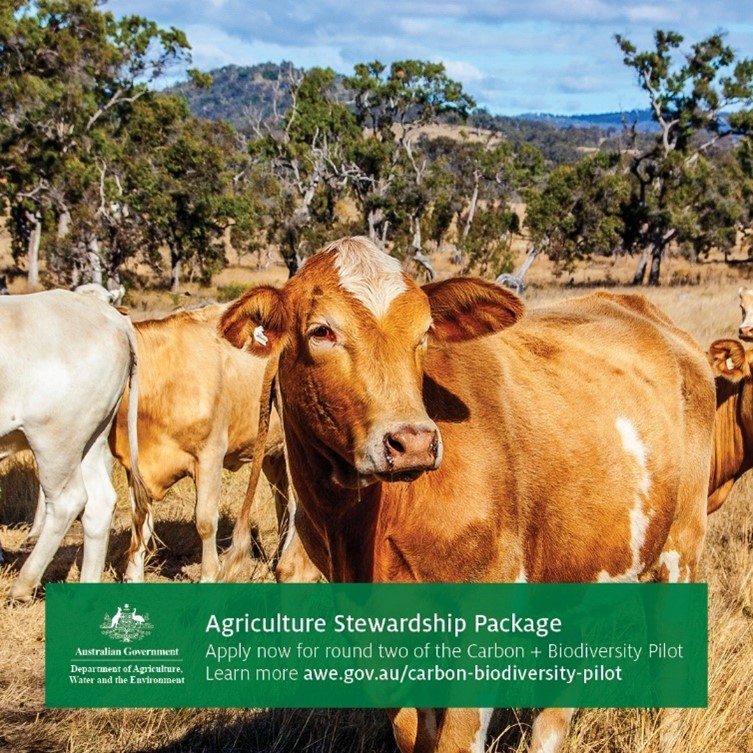 The Australian Government is running the Carbon + Biodiversity Pilot in our region. The Pilot is a key part of the Australian Government's $66.1 million Agriculture Biodiversity Stewardship Package and will reward farmers for the stewardship of their land, storing carbon and improving Australia's biodiversity. NRM South is the local NRM partner helping the government to implement the pilot in our region, helping to ensure it works for our landholders.
This round of the pilot builds on the success and learnings of round 1 to further test market arrangements to reward farmers for their biodiversity stewardship in 6 new regions. The first round showed that there is a real opportunity – farmers are keen to sell, and there are willing buyers.
Farmers who plant native trees and shrubs, in line with a biodiversity protocol developed by the Australian National University, can receive payments for biodiversity in addition to any earnings from selling the carbon credits.
Applications are open from Thursday 16 December 2021 until Thursday 3 March 2022. Details on how to apply and where to get assistance are covered below.
Who is eligible?
To be eligible, applicants must meet the following criteria;
Your property must be in the NRM South region.
Your property must be predominantly used for agricultural purposes.
You must be willing and able to undertake a new Emissions Reduction Fund (ERF) environmental plantings project.
You must be an individual or body corporate who owns, leases or has exclusive native title rights over the land on which the project will be undertaken.
You must meet the participant obligations under the ERF as outlined on the Clean Energy Regulator's website.
You must not have begun the project.
You must provide a commitment to act with the utmost good faith in your engagements with the program.
How to apply?
Head to the GrantConnect website to prepare your submission. Before applying, make sure to familiarise yourself with the C+B Pilot guidelines, the planting protocols and price guides for your NRM region. These documents are all available on the GrantConnect website by clicking on the GO Documents button (you will need to register with a new account if you are not already an existing account holder). Any alterations to these documents will be published on GrantConnect and by registering on this website, you will be automatically notified on any changes. GrantConnect is the authoritative source for grants information.
Plan the project and how it will work with your existing farm business.
Complete your application and submit through agsteward.com.au
Apply for the pilot before applications close on 3 March 2022.
Assistance or questions
If you need more information or help with your application, there are a number of contact options.
Enquiries about the program can be directed to the Department of Agriculture, Water and Environment at [email protected] or you can call them at 1800 329 055.
We are the local NRM partner helping the government to implement the pilot in our region, helping to ensure it works for our landholders. Get in touch with us for help with your application on 0447 266 527.