The Tasmanian Institute of Agriculture (TIA) and NRM South are aiming to give farmers on the East Coast of Tasmania new strategies to manage pasture production through drought.
The East Coast of Tasmania is an important wool producing region, but faces production challenges, including a dry temperate climate with highly variable rainfall between years.
Drought conditions on the region have persisted for the past three years, but recent autumn rains have provided better conditions to re-sow pastures and assess the response of previously established improved pastures. Though the response to rain has been varied, improved pastures have recovered well overall.
Improved pastures generally contain a combination of productive exotic grasses and legumes, these pastures are generally more productive than local native pastures. An experiment, being led by TIA Research Fellow, Dr Rowan Smith, aims to identify those perennial legume species that can persist in this tough environment.
"The last few years on the East Coast have really highlighted the importance of having persistent perennial species, those that have looked after their perennial species well are reaping the benefits as these pastures have been quicker to recover," Dr Smith said.
"The aim of this experiment is to identify perennial legumes that could be incorporated into the feedbase, making it more resilient to the impacts of extreme weather conditions and extended moisture deficits.
"It's particularly important to be thinking ahead in terms of a plan for the next extended period of moisture deficit – if in fact this one is over.
"It's difficult to establish new pastures in drought, this needs to be done in periods of adequate soil moisture and when there is sufficient feed on other areas of the farm, allowing a paddock to be taken out of production for a period."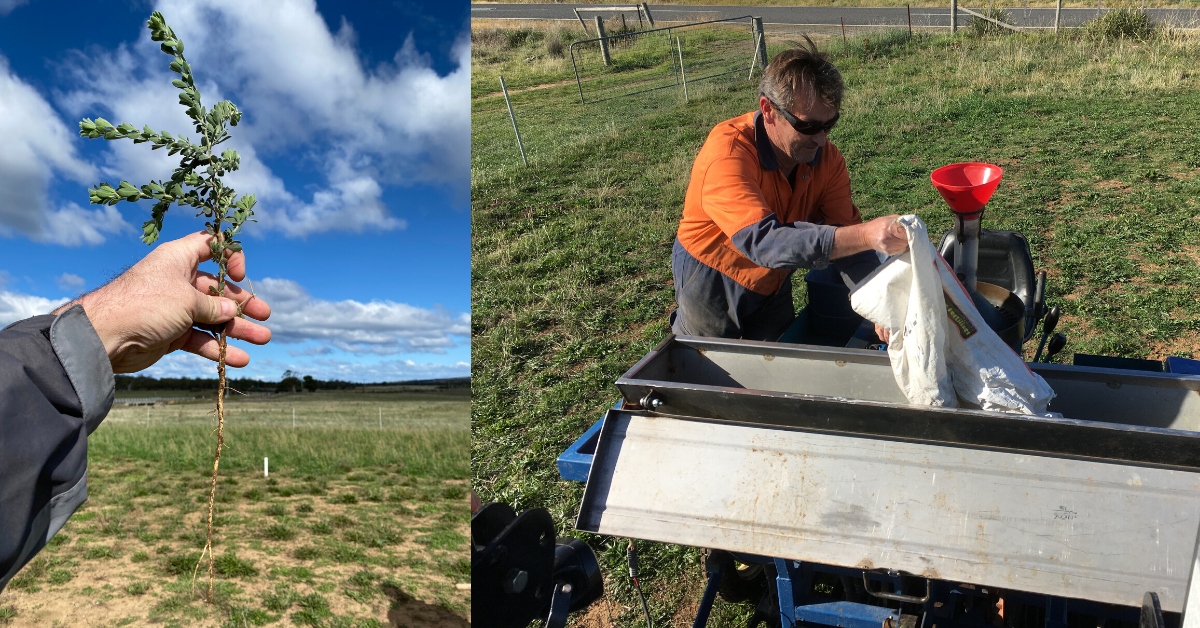 NRM South Project Officer, Tim Ackroyd said they hope these legumes can be another tool in the toolbox for East Coast farmers to manage for the next drought and still maintain or improve productivity.
"No one-size-fits-all for good management, we know that farmers need a range of tools to manage drought," Mr Ackroyd said.
"Though the East Coast drought has been very tough on farmers, many farms are bouncing back with improved livestock condition and good pasture growth particularly on well-maintained pastures.
"Overall conditions are better than they've been for many years and it's an ideal time to re-sow tired pastures.
"When deciding what pasture species to re-sow in dryland pastures and particularly run country, for many the balance is now heavily weighted on persistence, particularly those varieties of grasses than can withstand heavy grazing and prolonged drought conditions."
Previous TIA trials to determine suitable dryland pasture grass mixes on the East Coast highlighted the importance of using summer-active cocksfoots, which can respond to summer rainfall events. Annual legumes such as arrowleaf clover have also grown successfully in the region. However, inspection of pastures on the East Coast has highlighted the lack of perennial legumes within pasture swards, with most of the legume component comprising subterranean clover.
The benefits of legumes in pastures are known, including improving the nutritional quality of feed, fixing atmospheric nitrogen through the symbiotic relationship with rhizobia and increasing overall pasture productivity, but some perennial legumes have additional benefits over annuals. For example, perennial legumes that are deep-rooted can reach water deep in the soil profile, and therefore grow later into the season and be responsive to summer rainfall.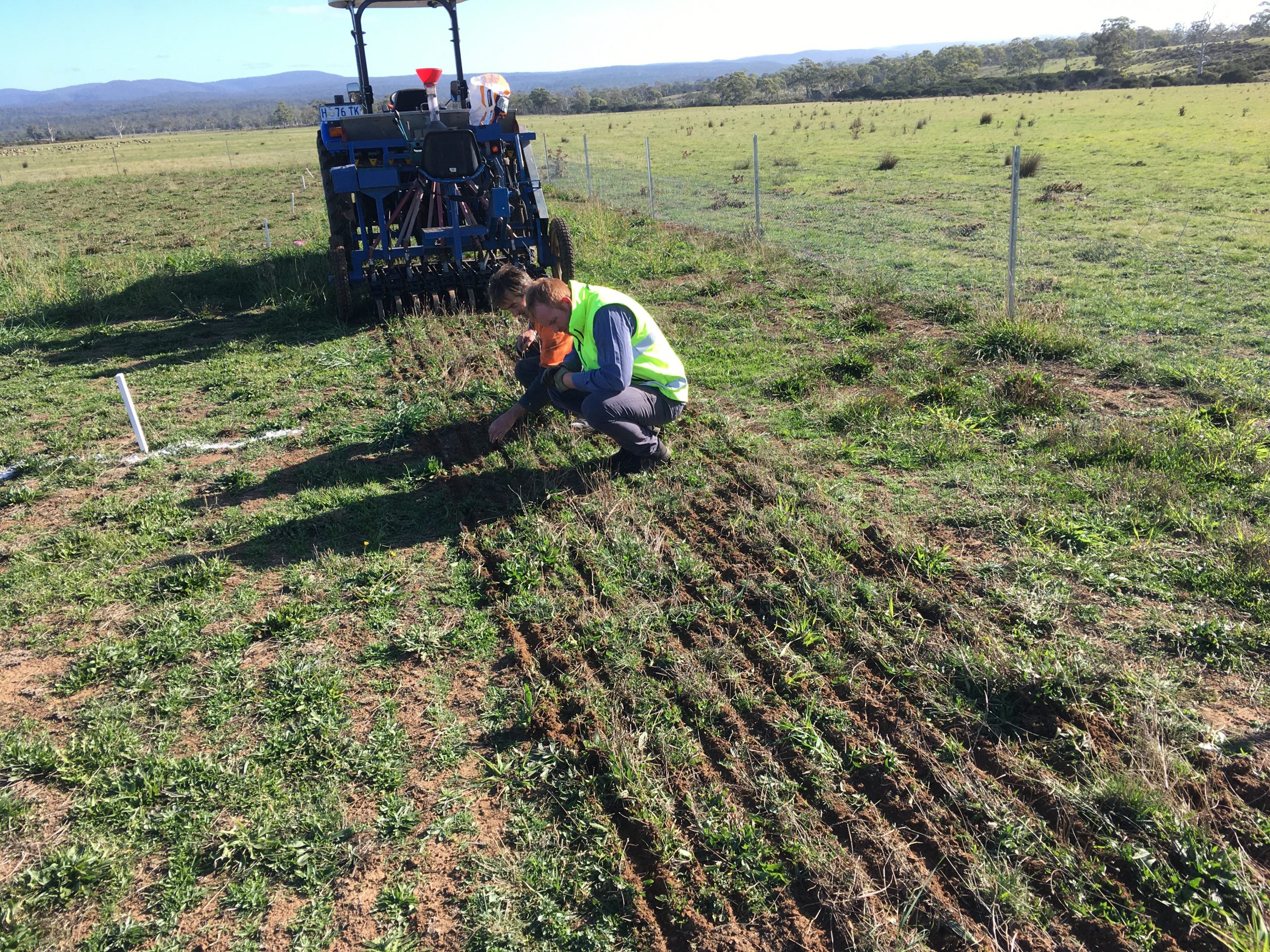 Farmers in low rainfall areas know that cocksfoot and phalaris persist but adding a perennial legume into the sward may not only increase productivity but also maintain ground cover during the summer-autumn period.
The TIA experiment will involve looking into the suitability of perennial legumes such as the deep-rooted Talish clover, stoloniferous red clover, and variegated lucerne for these conditions.
Henry and Josie Dunbabin are hosting the trial at their Milton Vineyard in Cranbrook.
"This trial is a good opportunity to learn about new species that can benefit our production systems on the East Coast, and that can persist in our climate and conditions," Mr Dunbabin said.
"Our experience of most dryland pastures is that annual legumes, such as subterranean clovers, and some perennial legumes, particularly red and white clovers, don't last for more than 12 months.
"Legumes add fertility, so I'd like the confidence to know that if I do sow then I'll see them persist in pastures well beyond the first year."
NRM South and TIA will be working together to extend information from the trial to all farmers in the region over the coming months.
If you'd like to know more please contact Tim Ackroyd NRM South Regional Agricultural Landcare Facilitator on: 0400 047 665 [email protected] or Rowan Smith Tasmanian Institute of Agricultures Research Fellow In Pasture and Forage Science on: [email protected]
This project is supported by NRM South, through funding from the Australian Government's National Landcare Programme and the Tasmanian Institute of Agriculture.
TIA is a joint venture between the University of Tasmania and the Tasmanian Government.