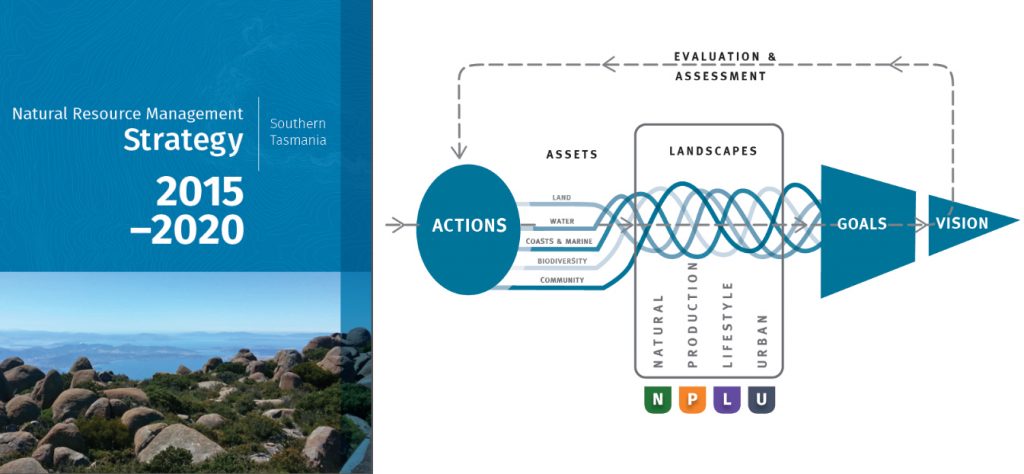 The purpose of the Natural Resource Management Strategy for Southern Tasmania is to provide a framework for action to guide activity that will help manage and improve the natural resources in Southern Tasmania. It is a whole-of-community strategy that identifies the social, economic and environmental values of the region and outlines how the community can work together to manage and improve its condition.
The vision for natural resource management in Southern Tasmania is to protect, sustainably manage and improve Southern Tasmania's natural resources, while adapting to change, for the shared environmental, social and economic benefit of our region by a well-informed, well-resourced and actively committed community.
The Strategy supports this Vision by:
• Identifying the value and strength of the natural assets within the region to provide for productive, resilient and healthy socio-economic and environmental landscapes;
• Encouraging and supporting key agencies, sectors and natural asset managers and regulators to plan strategically and coordinate action;
• Increasing the community's awareness and capacity to manage natural resources;
• Maximising return for natural resource management investment through innovative and collaborative solutions; and
• Collaborating to monitor and report on natural resource condition and management activity.
The Strategy is regularly updated and the 2015-2020 Strategy is now available. A big thanks to everyone involved in providing feedback and comments during the review process for the updated Strategy. We would also like to acknowledge the other research which was completed to support the development of the regional strategy, namely:
The Southern Slopes Climate Change Adaptation Research Partnership (SCARP) – led by University of Tasmania
The Strategy, Summary and Environmental, Strategic and Institutional Scan are available for download below