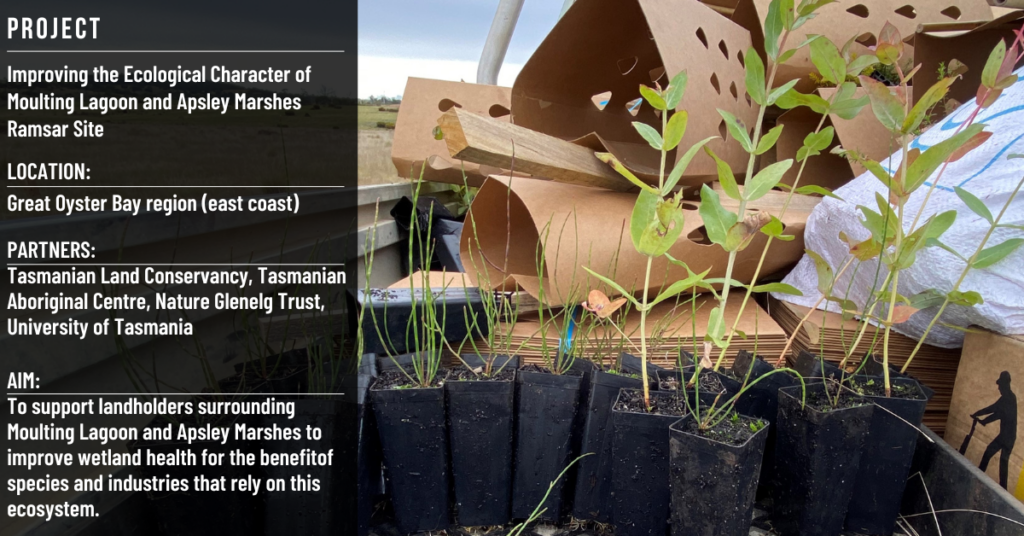 Moulting Lagoon is a wetland of international importance located on Tasmania's east coast. The lagoon provides critical habitat for waterbirds (including migratory species), is an important fish nursery, and filters water running off the land into the sea. The land surrounding the lagoon is also important for agriculture and has been largely cleared or significantly altered for livestock grazing.
As part of our Australian Government funded project to improve the ecological character of Moulting Lagoon and Apsley Marshes, which has been running since 2019, we have been working with project partners and local landholders to address historical vegetation clearing and to establish a buffer between these important wetlands and the surrounding agricultural land. In June 2022, we worked with Technical Forest Services to revegetate 9 ha of private land adjacent to Moulting Lagoon, with the aim of improving connectivity with an existing stand of Blue Gum (Eucalyptus globulus); bolstering declining sedge numbers in the understory, and providing shelter, shade, food and a wildlife corridor for native animals.
Across the 9 ha area, Technical Forest Services hand-planted native seedlings in clumps, reflecting the growth habit of Tasmanian Blue gum along Tasmania's eastern coastal habitats. The canopy seedlings (Tasmanian Blue gum and Drooping Sheoak) were protected against browsing by stock and native animals using biodegradable cardboard tree guards. Recycled weed mats were also used with each of the guarded seedlings. These mats help the seedlings to establish by retaining moisture and suppressing weeds. Mid-storey (Teatree and Tick Bush) and understorey species (Common Tussock-grass and White-flag Iris) were also added to the mix to create a diversity of habitat.

In August 2022 and February 2023, NRM South and Technical Forest Services completed follow-up inspections to check on the condition of the seedlings. Above average rainfall in 2022 affected seedling survival rates in low lying areas with poor drainage (around 40% for Tasmanian Blue gum and 70% for the Sheoak (Allocasuarina verticillata). Survival rates improved in elevated areas (around 60% for Tasmanian Blue gum and 85% for Sheoak) and overall, Sheoaks showed more resilience across the site.
By February 2023, dry summer conditions had caused soils to crack and split around the base of the plantings. Several of the carboard tree guards had collapsed (which may be prevented by staking them differently in the future) but plant survival rates remained relatively stable. Although there was some weed growth, the weed mats performed relatively well overall. Very few of the midstorey species (which did not have guards in place) were identified, which is likely due to the wet conditions and browsing. The understorey appears to have integrated with the existing cover of common tussock-grass (Poa labillardieri) across the project area.
Browsing animals had minimal impact on the overstory plants, which may be a result of the significant amount of feed available following the wet weather. Although cattle from a neighbouring property managed to access the revegetation area and pulled out several tree guards and weed mats, the majority of the trees survived. Wombats also took an interest in the plant guards and appear to have chewed on a number of them.
Overall, this revegetation work is expected to provide a solid foundation for natural regeneration in the project area. By the end of the project, in June 2023, NRM South will have revegetated 67 ha of private land surrounding Moulting Lagoon and Apsley Marshes. The revegetation will be maintained by the landholders and the learnings from these works will inform future revegetation works in the area.
This project is supported by NRM South though funding from the Australian Government's National Landcare Program.