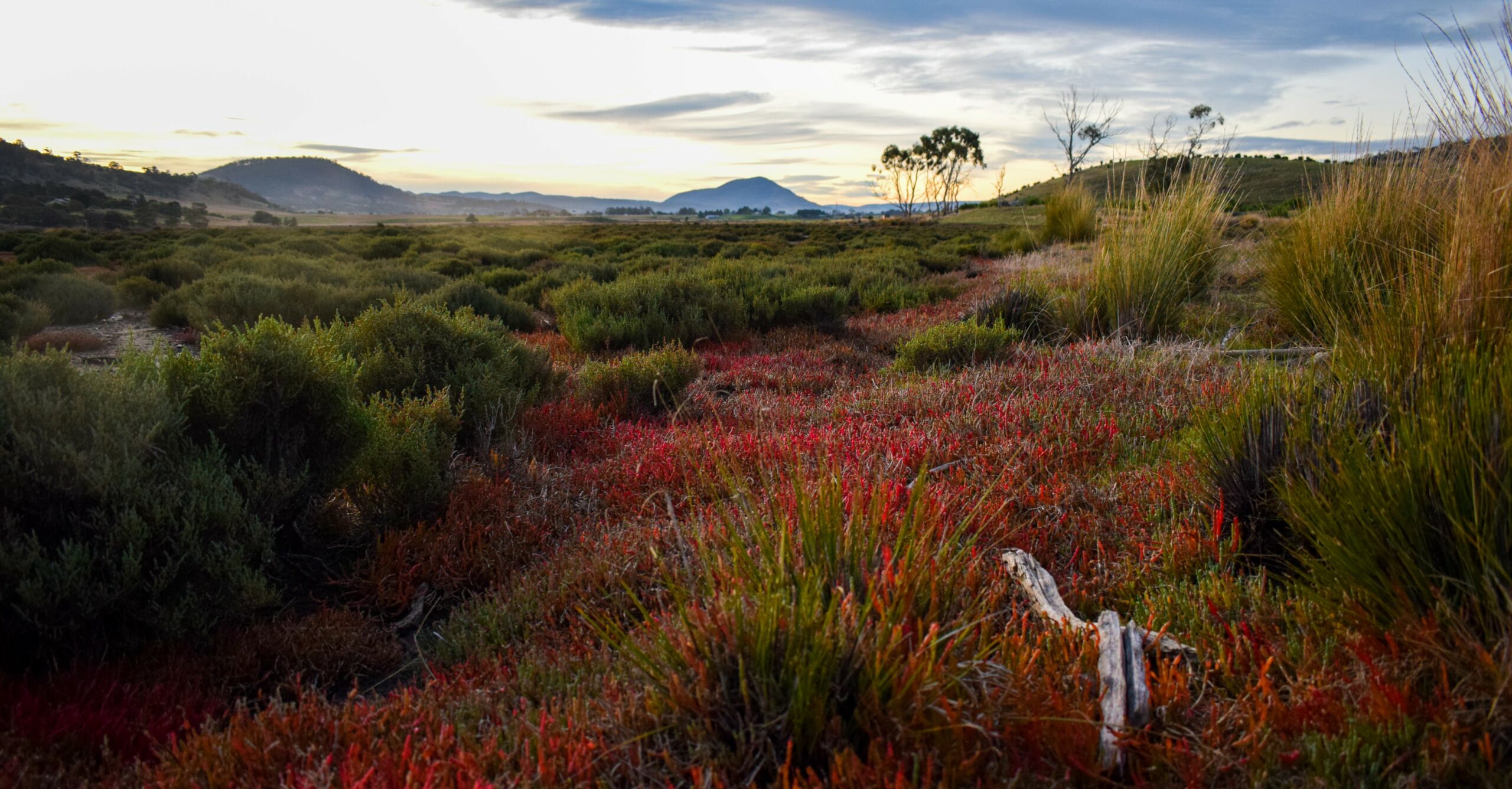 SUMMARY
This project is working to restore essential fish habitat in the saltmarshes of the Pitt Water-Orielton Lagoon Ramsar site. NRM South is working with project partners and landholders to restore saltmarsh habitat in Pitt Water-Orielton Lagoon and works are designed to restore natural flows and provide protection to modified saltmarsh habitat.
BACKGROUND
At Pitt Water-Orielton Lagoon historically significant saltmarsh has become degraded over the decades. This saltmarsh habitat is important for recreationally valuable fish species and our saltmarsh restoration project is working to bring benefits to fish productivity by improving fish nursery habitat.
A legacy of changing land use, land clearing and livestock grazing in and around saltmarsh at Pitt Water-Orielton Lagoon has changed landscape function. Sections of saltmarsh have become stranded from tidal inundation, altering the connectivity of fish habitat and exposing waterways to increased nutrient inputs. This has knock-on effects for many of the recreationally important fish that depend on this site, including mullet, Australian salmon, and greenback flounder.
PARTNERS
OzFish Unlimited and the University of Tasmania
FUNDING
Australian Government's Department of Agriculture, Fisheries and Forestry – Fisheries Habitat Restoration Program
PROJECT DURATION
2021-2023
APPROACH
This project is addressing the following threats;
Stock trampling and browsing of saltmarsh communities (reduces the extent and diversity of saltmarsh)
Modified hydrological flows from levees and bunds (reduces inundation to saltmarsh and restricts fish access to saltmarsh habitat)
The lack of vegetation buffering saltmarsh communities modifies microclimate and increases the potential for weed incursion and runoff of excess nutrients and sediments from surrounding agricultural areas into saltmarsh communities
Resource utilization – current and potential changes to land and water management practices
Extraction of fish stocks through fishing activities
Project activities include:
– Removing 1 bund/levee adjacent to selected saltmarsh communities
– Fencing saltmarsh to protect from livestock trampling and nutrient inputs
– Restoring previously cleared woody vegetation and native grasses, providing buffer plantings for the saltmarsh microclimate from agricultural activities
– Engaging and involving the local recreational fishing community in on-ground works and monitoring activities to build the capacity of recreational fishers to participate in fish habitat stewardship
– Assessing populations of recreationally important fish species and their habitat before and following restoration activities and identify future engagement and management opportunities
ACHIEVEMENTS TO DATE
Water level

loggers installed across the site to track

the reach and depth of tidal cycles.

Baseline flora monitoring and preliminary fauna surveys have been completed.

Three community events have been held, including site tours and an opportunity for attendees to participate in vegetation and bird surveys.