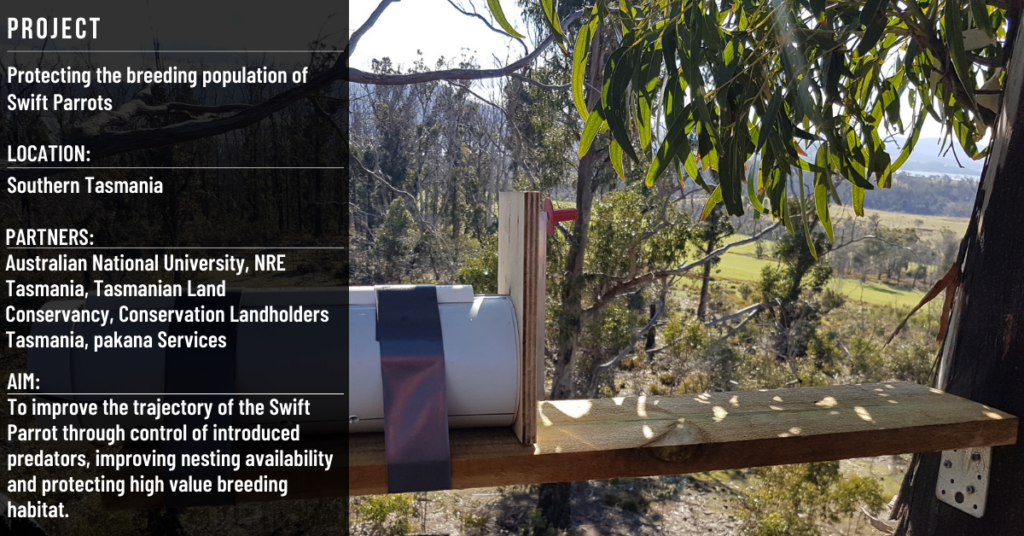 The swift parrot is a critically endangered migratory bird that divides its time between Tasmania and mainland Australia. The swift parrot gets its name from its impressive flight speeds, but there is another aspect of this small charismatic bird that is also swift – its rate of decline. The two major factors believed to be contributing to this decline are the loss of foraging and breeding habitat, and predation by the introduced sugar glider.
As part of an Australian Government funded project, NRM South has been exploring ways of reducing the impacts of sugar glider predation on breeding swift parrots. Four field trials carried out between 2019 and 2022 attempted to demonstrate an efficient and cost-effective way of controlling sugar gliders in swift parrot habitat.
These trials have had mixed results with progress impaired by a lack of understanding of sugar glider ecology in Tasmania. While there is a reasonable body of research on sugar gliders from mainland Australia, there a comparatively few studies from Tasmania. Understanding of their basic ecology, such as habitat preferences, home range size, diet, seasonal variation in vocalisations and breeding patterns, remains relatively limited.
Despite these knowledge gaps, the trials have progressed our understanding of how best to trap and control sugar gliders in Tasmania. As the project enters its final year, we review some of the key learnings:
Trapping sugar gliders is possible, but difficult
Different trap types have varying strengths and weaknesses
Seasons may influence trapping success
4G cameras are not a 100% effective trap monitoring tool
A reactive approach to trapping is challenging to implement effectively
As a result of these lessons, other approaches to glider trapping and control are currently being considered. In the project's final year, NRM South will examine if extended sugar glider control (over 6-8 months) can effectively reduce the glider population in an area. We also hope to work with other funding partners on projects to research sugar glider habitat use and home range size. Ultimately, our aim is to gather enough information to be able to develop more effective glider control programs in the future to support on-ground conservation actions that can address the rapid decline of this critically endangered bird.
This project is supported by NRM South, in partnership with the Australian National University, NRE Tasmania, Tasmanian Land Conservancy, Conservation Landholders Tasmania and pakana Services, through funding from the Australian Government's National Landcare Program.